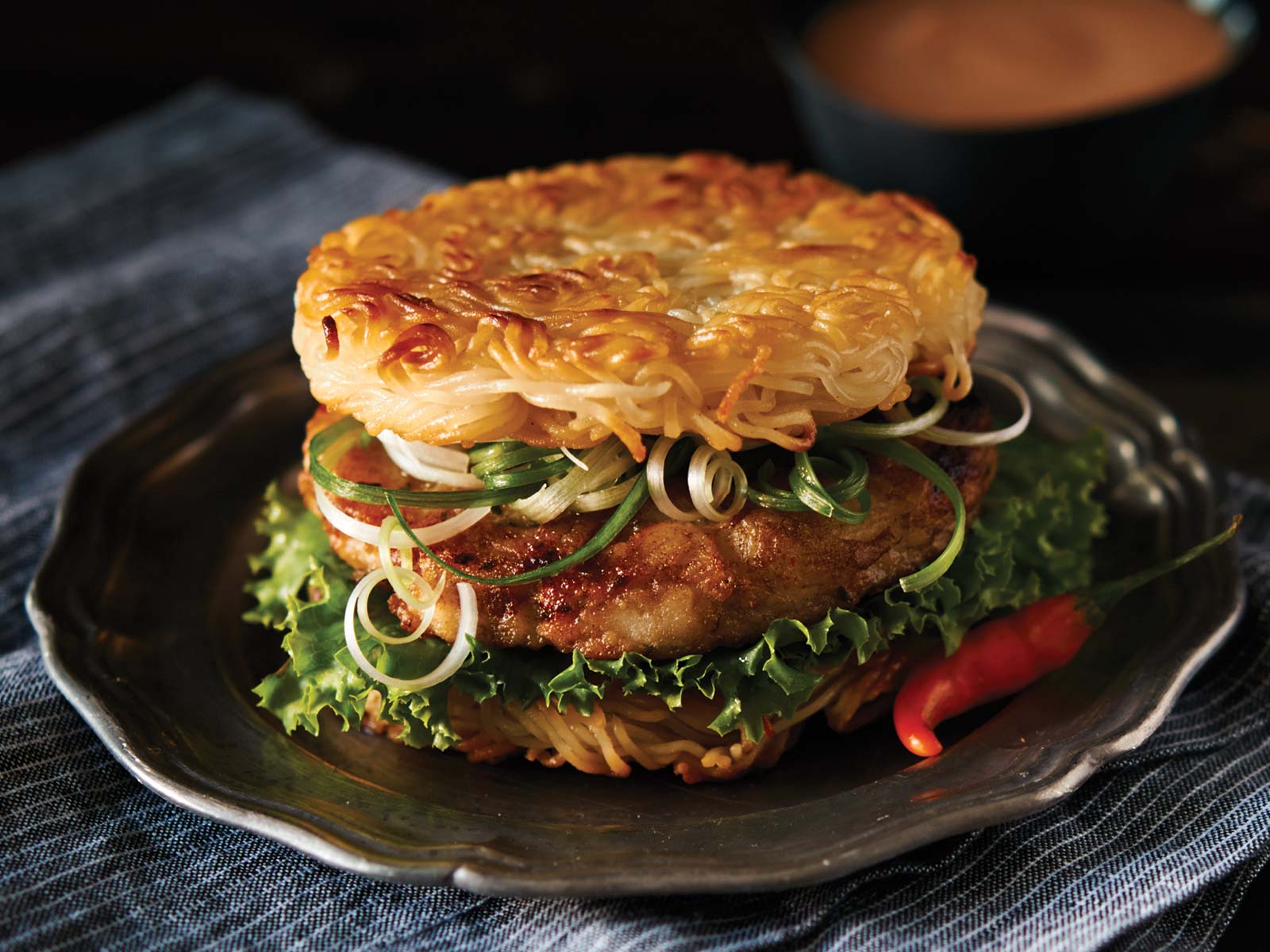 Wild Alaska Pollock Ramen Burgers with Sweet Chile Mayo
20 minutes 4 servings
Ramen noodles are molded into rounds, fried, and then used as hamburger buns to sandwich Alaska Pollock Burgers in this fun take on the traditional burger. Sweet Chile mayo, scallions, and lettuce add final touches of delicious flair.
Ingredients
2 Package Ramen Noodles

2-4 Tablespoon Vegetable Oil

1/4 Cup Mayonnaise

2 Tablespoon Ketchup

1 Tablespoon Thai Sweet Chili Sauce

2 teaspoon Soy Sauce

4 Burgers Trident Seafoods® Alaskan Pollock Burgers

8 Pieces Lettuce Leaves

1 Each Green Onion, thinly sliced
Directions
Bring a large pot of water to a boil. Discard ramen seasoning packets. Add the noodles to boiling water and cook for 2 minutes, then drain. Put four 4-inch ring molds (or cans with the tops and bottoms cut out) on a cookie sheet and pack the noodles firmly into the molds. Refrigerate for at least 15 minutes or overnight, covered.

Heat the oil in a large skillet over medium-high heat. Remove the noodles from the molds and add to the skillet. Cook until golden, about 5 minutes, turn and cook the other side, another 5 minutes. Remove to toweling.

At the same time, in a small bowl, stir together mayonnaise, ketchup, sweet chile sauce and soy sauce.

Cook the burgers according to package directions. To serve, top one ramen round with 1 tablespoon mayo mixture, some lettuce, a burger and some scallions. Top with another tablespoon of mayo mixture, another ramen round and serve.