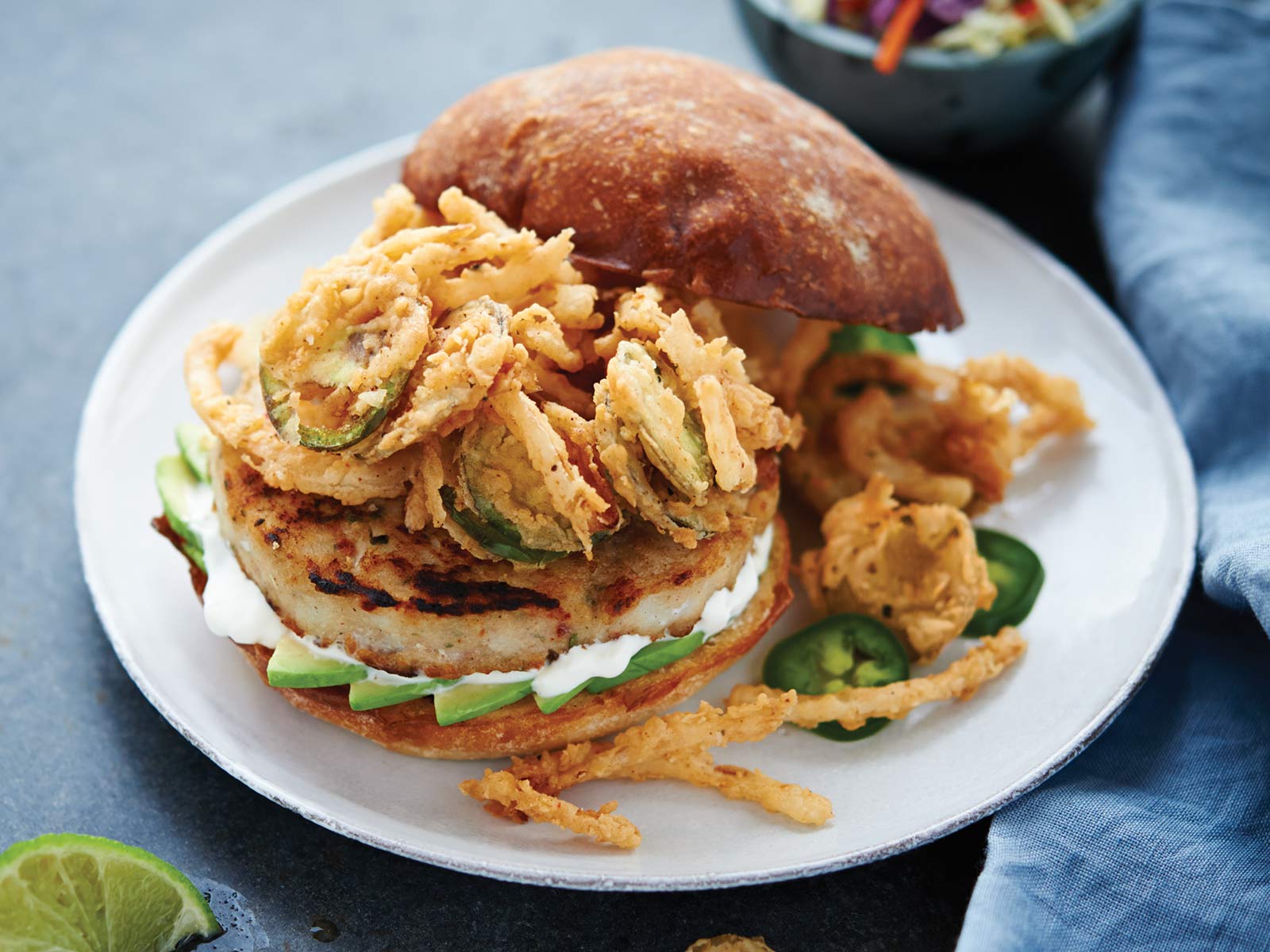 Wild Alaska Pollock Burger with Fried Onions, Jalapenos and Pickles
25 minutes 4 servings
Our wild Alaska Pollock Burgers are amped up with lime mayo and deep-fried slices of onions, jalapenos, and pickles that add a lively dose of spice, crunch, and flavor to every bite. Sprigs of cilantro and avocado slices provide the delicious final touches.
Ingredients
2 Cups All-Purpose Flour

2 teaspoon Kosher Salt

1 teaspoon Coarse Pepper

1 teaspoon Cayenne Pepper

1 1/2 Cups Buttermilk

2/3 Cup Bread & Butter Pickles (drained)

2/3 Cup Jalapeno Slices

1 Medium Onion, thinly sliced

1/2 Cup Mayonnaise

1 Tablespoon Lime Juice

1/2 teaspoon Lime Zest

4 Burgers Trident Seafoods® Alaskan Pollock Burgers 3 lb

Vegetable Oil (as needed)

4 Each Burger Buns

1 Large Avocado, peeled, pitted & sliced

Cilantro Sprigs
Directions
In a small bowl, stir together the mayonnaise, lime juice and zest. Set aside.

In a large bowl, whisk together the flour, salt, pepper and cayenne. In another large bowl, combine the buttermilk, pickles, jalapeños and onions.

Cook the burgers according to package directions and keep them warm. At the same time, heat the oil in a fryer or deep skillet until the oil reaches 375°F. Dredge the pickles, jalapeno and onions into flour mixture, shake off excess flour, and fry, in small batches until golden brown, transferring to toweling when cooked. Repeat until all are golden brown.

Toast buns if desired. Spread buns with 1 tablespoon of lime mayonnaise on each side. Layer the bottom bun with avocado slices and a whitefish burger, then top with the fried onions, pickles and jalapeños and sprigs of cilantro. Top with bun top and serve.