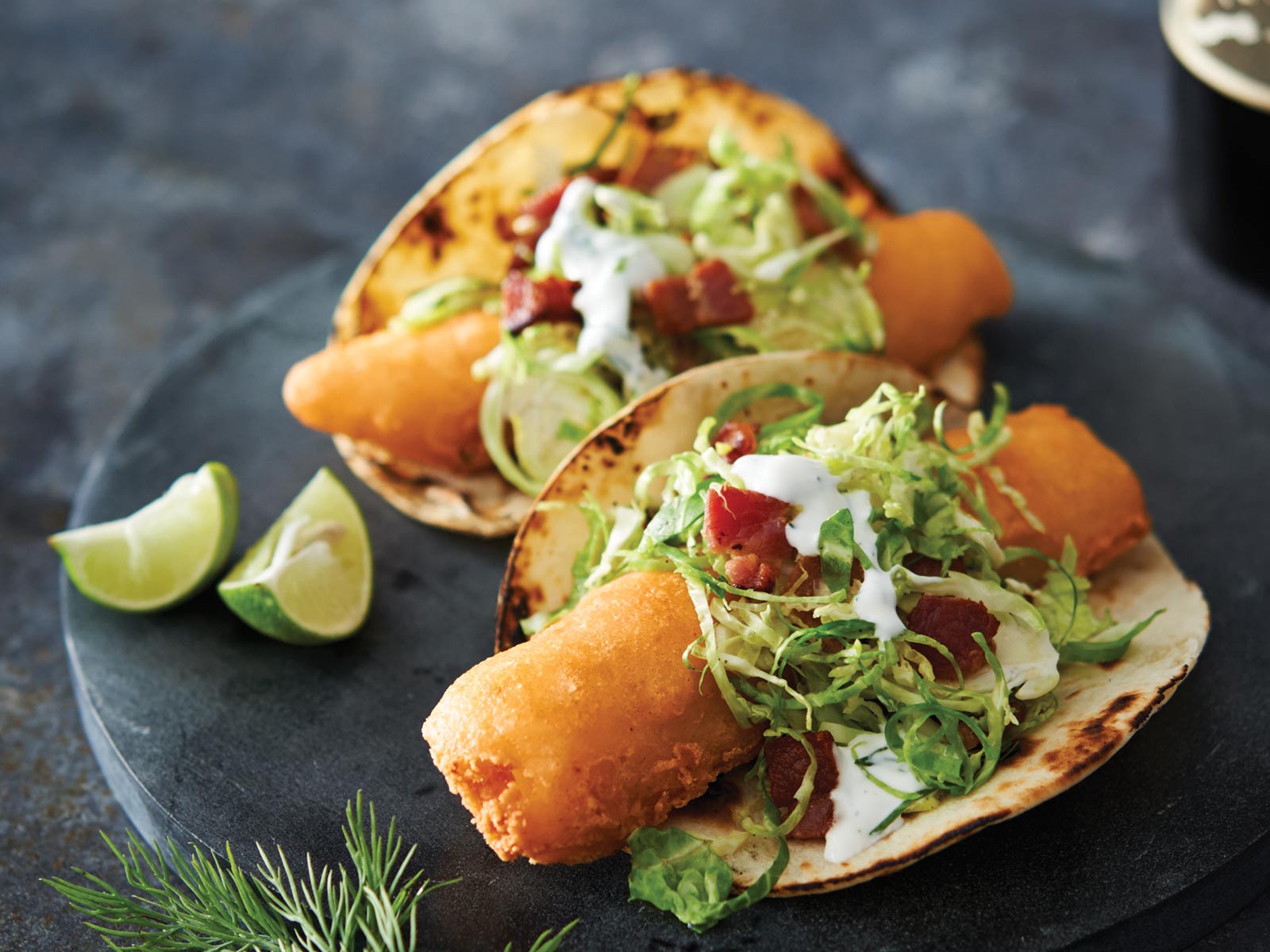 Alaska Cod Tacos with Brussels Sprout & Bacon Slaw and Dilled Sour Cream
30 minutes 2-4 servings
Our Beer Battered Cod gets wrapped in corn tortillas, topped with a bacon-laced Brussels sprouts slaw, and then drizzled with a creamy dill dressing. Serve this twist on the traditional taco as an appetizer or a main dish.
Ingredients
4 Pieces Trident Seafoods® Beer Battered Cod

1/4 lb Bacon - Thick Cut

1 Cup Brussels Sprouts, very thinly sliced

1 Tablespoon Cider Vinegar

1/2 Cup Sour Cream

Salt & Pepper

1 Tablespoon Fresh Dill, chopped

4 Small Corn Tortillas (Warmed)
Directions
Cook the cod according to package directions and keep warm.

Cut the bacon into 1/2-inch pieces. In a medium skillet, cook the bacon over medium-high heat until rendered and crisp, about 10 minutes. Transfer bacon pieces to toweling, but save fat.

In a large bowl, combine 1 tablespoon of rendered bacon fat with the cider vinegar and salt and pepper. Add the Brussels sprouts and bacon pieces and toss.

In a small bowl, mix the Mexican crema or sour cream with the dill. Add water to thin if desired and set aside.

Place cod on the tortillas, top with slaw, and drizzle with dill cream. Serve.
Trident Seafoods
Beer Battered Cod 2.5 lb
2.5 lb
Learn More