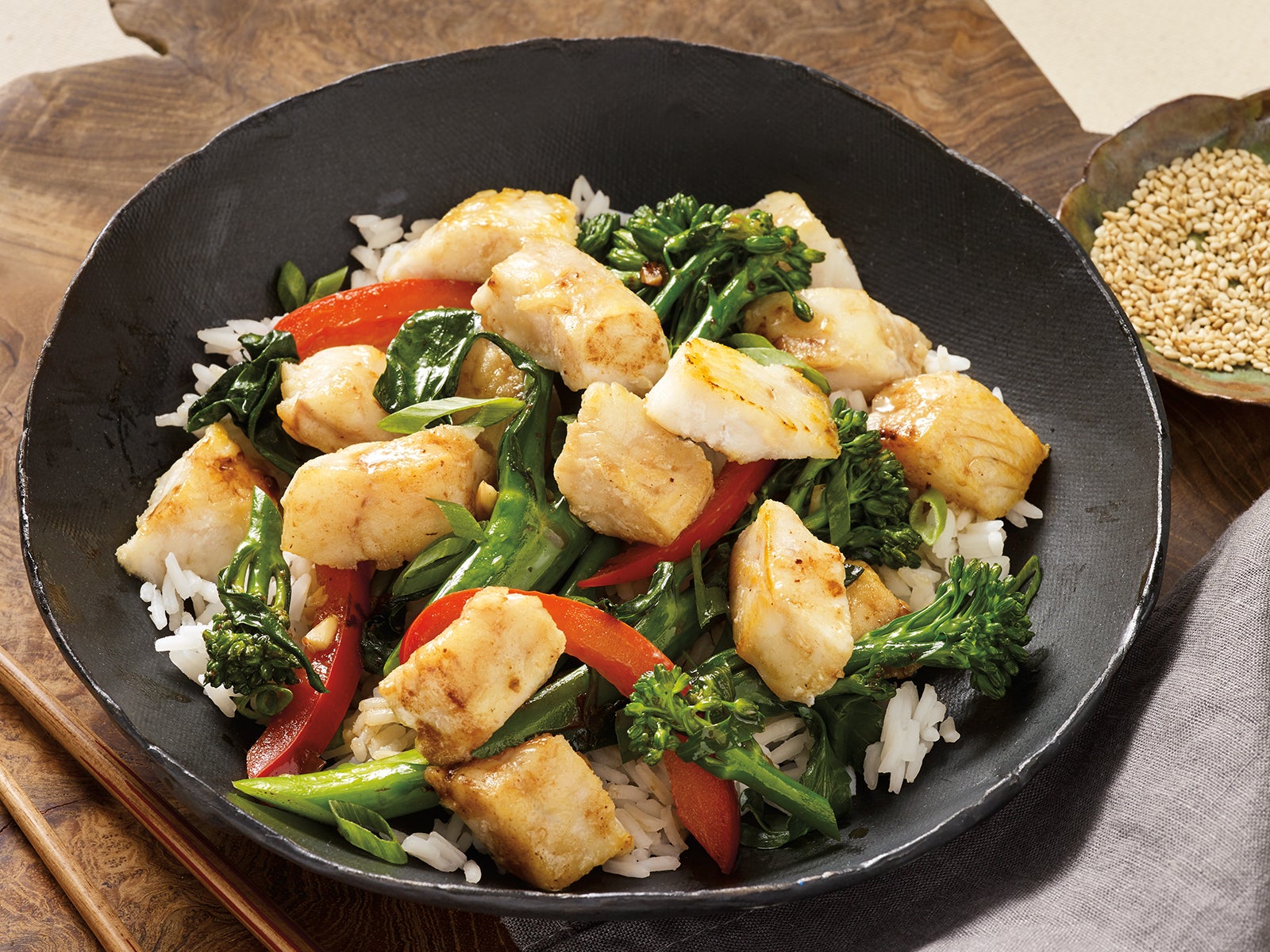 Wild Alaska Pollock Stir Fry
20 minutes 4 servings
It's quick. It's easy. It's healthy. It's stir fry. Grab your Alaskan Pollock Skillet Cuts, garlic and ginger, broccolini peppers, black bean and soy and chili sauces, and combine them in a skillet with a just a bit of oil. And wammo, you have amazingly flavorful stir-fried goodness for dinner.
Ingredients
1 lb Broccolini

2 Tablespoon Vegetable Oil

1 lb Trident Seafoods® Wild Caught Alaskan Pollock Skillet Cuts

2 Cloves Garlic, minced

1 inch Piece of Ginger Root, grated

1 Red Bell Pepper (cut into 1/2-inch strips)

1 Tablespoon Black Bean Sauce

1 Tablespoon Soy Sauce

1/2 teaspoon Chili Garlic Sauce

Steamed Rice

2 Each Green Onion, thinly sliced

Sesame Seeds
Directions
Cook the broccolini in boiling water for 2-3 minutes until crisp tender or microwave for 2 minutes on high power. Set aside.

Heat half the oil in a large non-stick skillet over high heat. Pat fish dry with toweling and cook, about 2-3 minutes each side for thawed fish and 8-10 minutes for frozen, turning halfway through the cooking time. Remove to a bowl.

Add the remaining oil to the skillet and cook the garlic and ginger for 30 seconds until fragrant. Add the broccolini, peppers and 1/2 cup water, cover and steam for 3 minutes. Stir in the black bean sauce, soy and chili sauce and return the fish to the skillet. Toss to combine.

Serve with rice, sprinkled with green onions and sesame seeds.