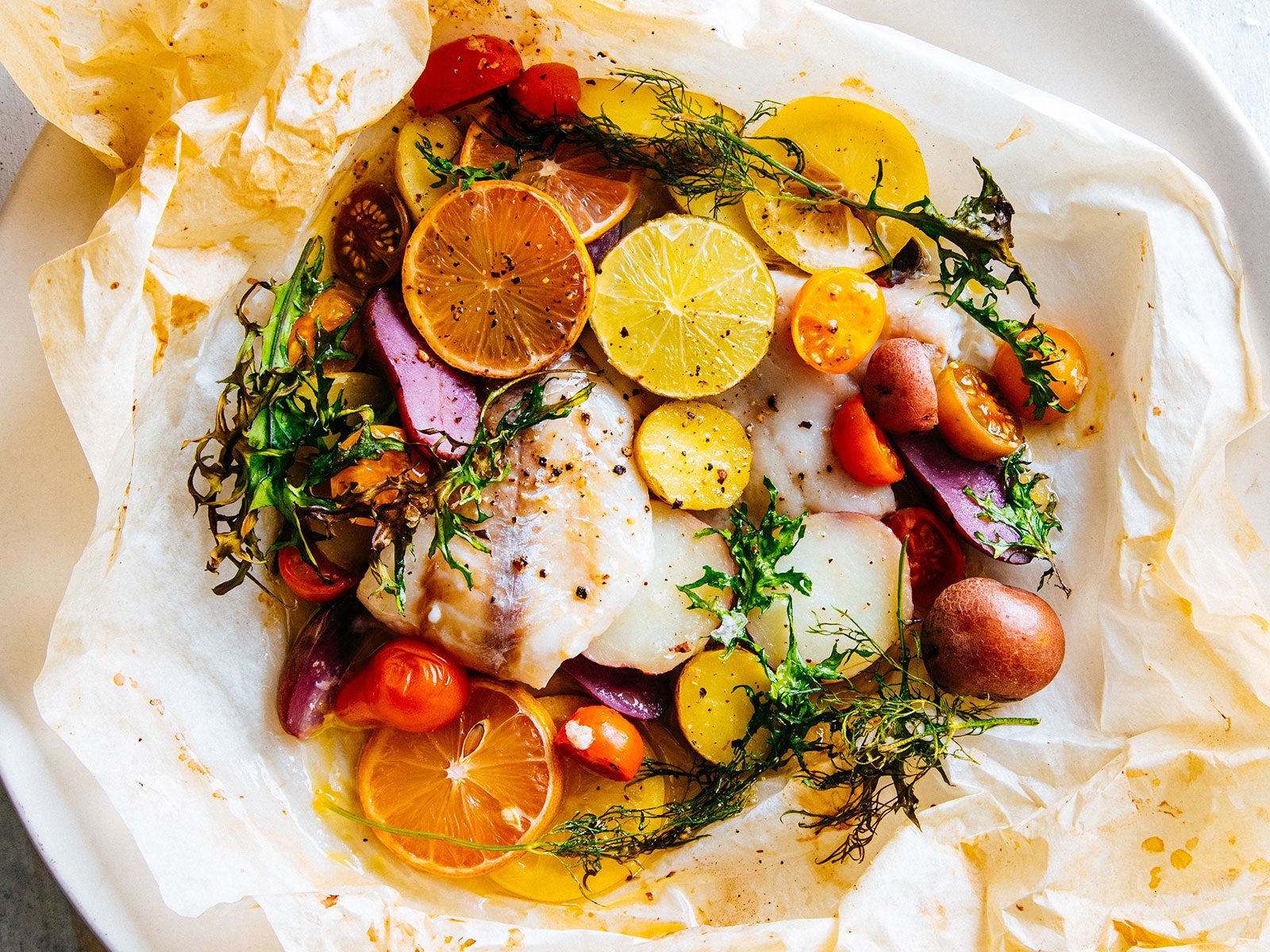 Wild Alaska Pollock en Papillote with Fingerling Potatoes and Citrus
25 minutes 4 servings
Cooking fish en papillote (which means cooking in paper) is a fabulous way to cook fish. Flavored with orange, lemon and lime slices, Wild Alaskan Pollock steams to perfection, along with cherry tomatoes and fingerling potatoes.
Ingredients
4 fillets Trident Seafoods® Wild Caught Alaskan Pollock Fish Fillets 2.1 lb

1 1/2 cups fingerling potatoes

3/4 cup cherry tomatoes

1 each orange

1 each lemon

1 each lime

1/4 cup olive oil

to taste Salt and pepper to taste

optional 2 sprigs fresh dill, handful of baby kale
Directions
Preheat oven to 400°F. Remove Wild Alaskan Pollock from the refrigerator and set it on a clean plate. Fold two large pieces of parchment paper in half and cut rounds in them to make a heart shape when unfolded. They should be at least 4 inches larger than the fish fillets when folded in half.

Slice the potatoes into 1/2-inch pieces. Halve the tomatoes and slice the citrus into thin rounds (about ½-cm). Assembling one paper case at a time, set two fillets on one half on the unfolded parchment paper heart. Add half the potatoes, tomatoes and sliced citrus. Be sure to leave a border of 1½-2 inches around the edge. Drizzle with two tablespoons of olive oil, and season with salt and pepper. Add half the herbs and greens if using.

You can brush the edges of the paper with more olive oil to create a tighter seal. Fold the other half of the parchment paper heart over the fish and veggies. Starting at the curve of the heart, fold tight pleats to seal the two edges of the paper. Fold the entire edge of the paper to form a seal, twisting the tip at the bottom of the heart. Repeat with the second piece of parchment and the remaining ingredients.

Arrange both paper cases on a baking sheet and bake for 15 minutes. Paper cases will be puffed when ready. Each papillote should serve two people.