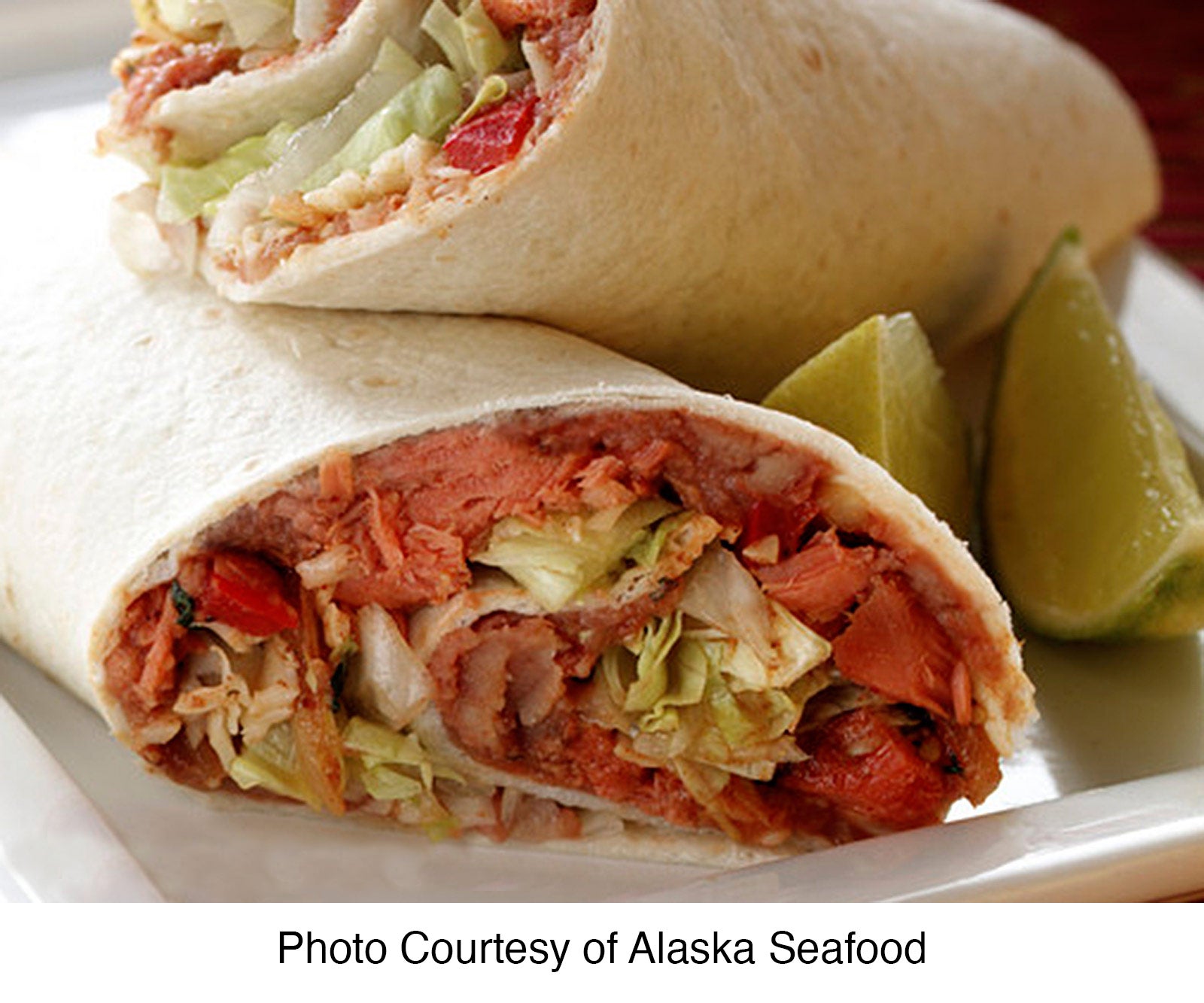 Alaska Salmon Burrito
25 minutes 6 servings
Trident Seafoods canned salmon makes this an easy lunch or dinner entrée that can be whipped up in just minutes. Fresh veggies, beans, spices, and more Mexican-style flavors get wrapped up in a tortilla, making this meal high in protein and —ready in minutes! Serves 6
Ingredients
1/2 large Red Bell Pepper (cut into 1/2 inch strips)

1/2 medium Yellow Onion (cut into thin strips)

2 teaspoon Fresh chopped garlic

2 Tablespoon Olive Oil

1/2 teaspoon Salt

1/2 teaspoon Pepper

2 teaspoon Chili Powder

1 teaspoon Ground Cumin

2 Tablespoon Fresh Cilantro, chopped

2 or 3 Tablespoon Lime Juice

1 Can Salsa Verde

1 Can Rubinstein's® Pink Salmon 14.75 oz

1 Can Refried Beans (fat-free, heated)

1-1/2 Cups Monterey Jack Cheese (shredded)

3/4 Cup low-fat Sour cream

3 Cups Lettuce (shredded)

6 large Flour Tortillas, warmed

1 Cup Salsa

1 Avocado, peeled, pitted & diced
Directions
Use 1 can (14.75 ounces) or 2 cans (6-7.5 oz) Rubinstein's® or other Trident Seafoods® Alaska canned salmon, drained and chunked.

Sauté bell pepper, onion and garlic in olive oil over medium heat for 3 to 5 minutes. Add salt, pepper, chili powder, cumin, cilantro, lime juice and salsa verde; heat through. Gently stir in salmon. Heat through and reserve.

Layer beans, salmon mixture, cheese, sour cream and lettuce on a warm tortilla. Roll and top with salsa and avocado.

Cook's tip: Substitute enchilada or molé sauce for salsa verde. Add sliced jalapeño peppers, if desired.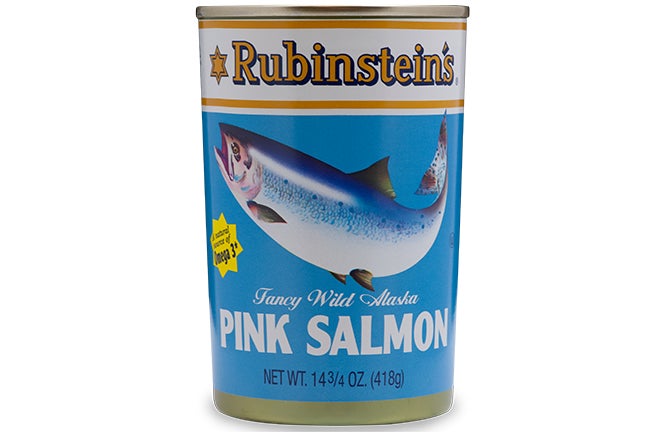 Canned Products
Rubinstein's® Pink Salmon 14.75 oz
14.75 oz
Learn More