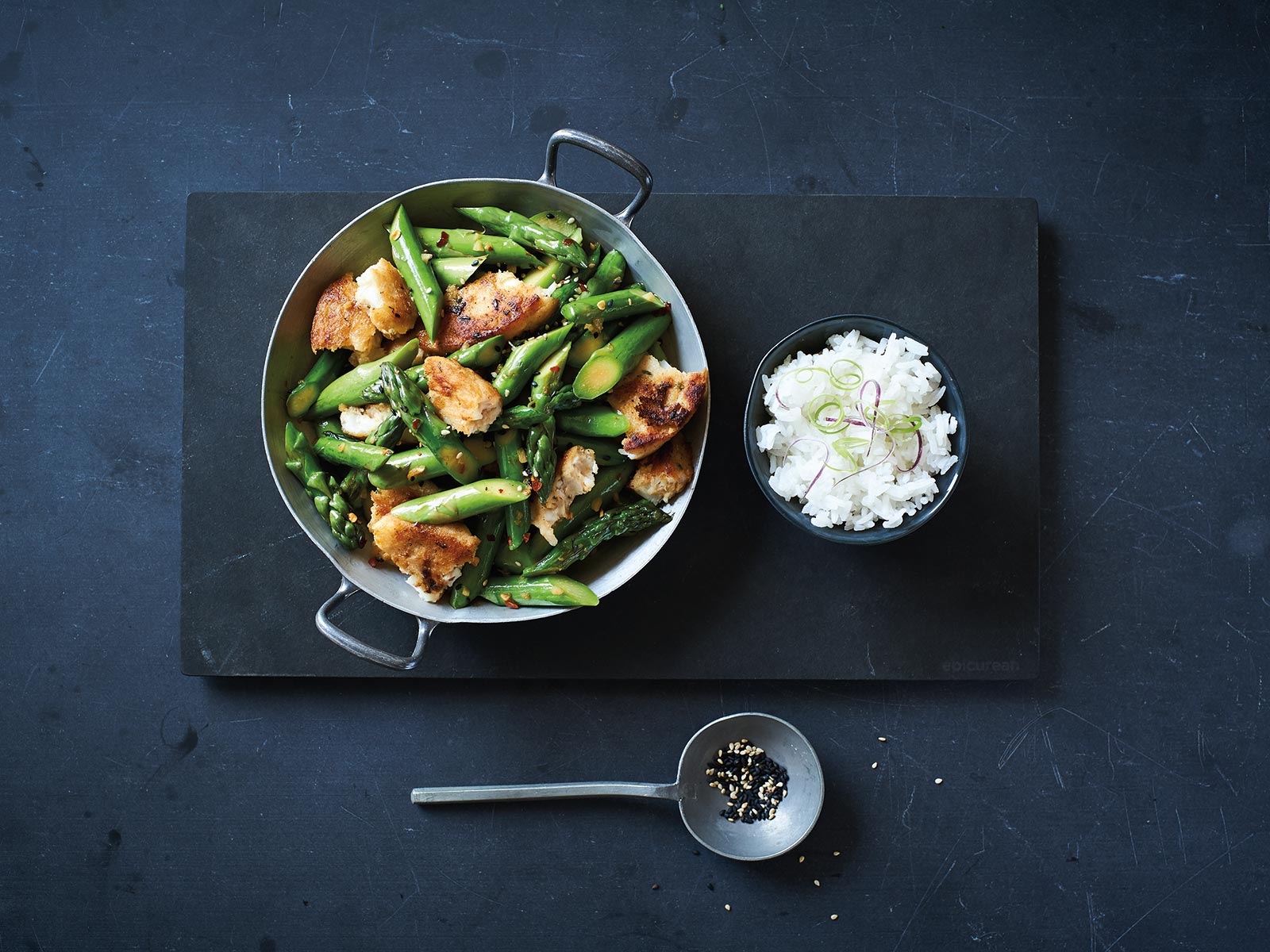 Spicy Asparagus & Wild Alaska Pollock Burger Stir-Fry
25 minutes 4 servings
This simple stir-fry gives takeout a run for the money…all you need is a large, heavy skillet (a 12-inch cast-iron is perfect) and plenty of heat from your stove. Have everything prepped before you start cooking and the dish will come together very quickly and smoothly.
Ingredients
4 Trident Seafoods® Alaska Pollock Burgers

2 Tablespoon Soy Sauce

1 Tablespoon Sugar

1 Tablespoon Vegetable Oil

1 Tablespoon Dark Sesame Oil

1 1/2 lb Fresh Asparagus, cut into 2-inch diagonals

2 Large Garlic Cloves (Minced)

1/4 - 1/2 teaspoon Red Pepper Flakes

1/2 Cup Water

1 Tablespoon Sesame Seeds

4-6 Cups Cooked Rice
Directions
Combine the soy sauce and sugar in a bowl until sugar dissolves. Set aside.

Heat the vegetable oil in a large, heavy skillet over high heat. Cook the burgers 3-4 minutes on each side. Transfer burgers to a plate.

Add sesame oil, asparagus, garlic and red pepper flakes to the skillet. Toss for 1 minute and then add 1/2 cup water. Cook until asparagus is crisp tender, about 3-4 more minutes.

Chop up the burgers and add to pan, along with the soy mixture. Toss until burgers and asparagus are well coated with soy mixture.

Sprinkle with sesame seeds and serve over rice.