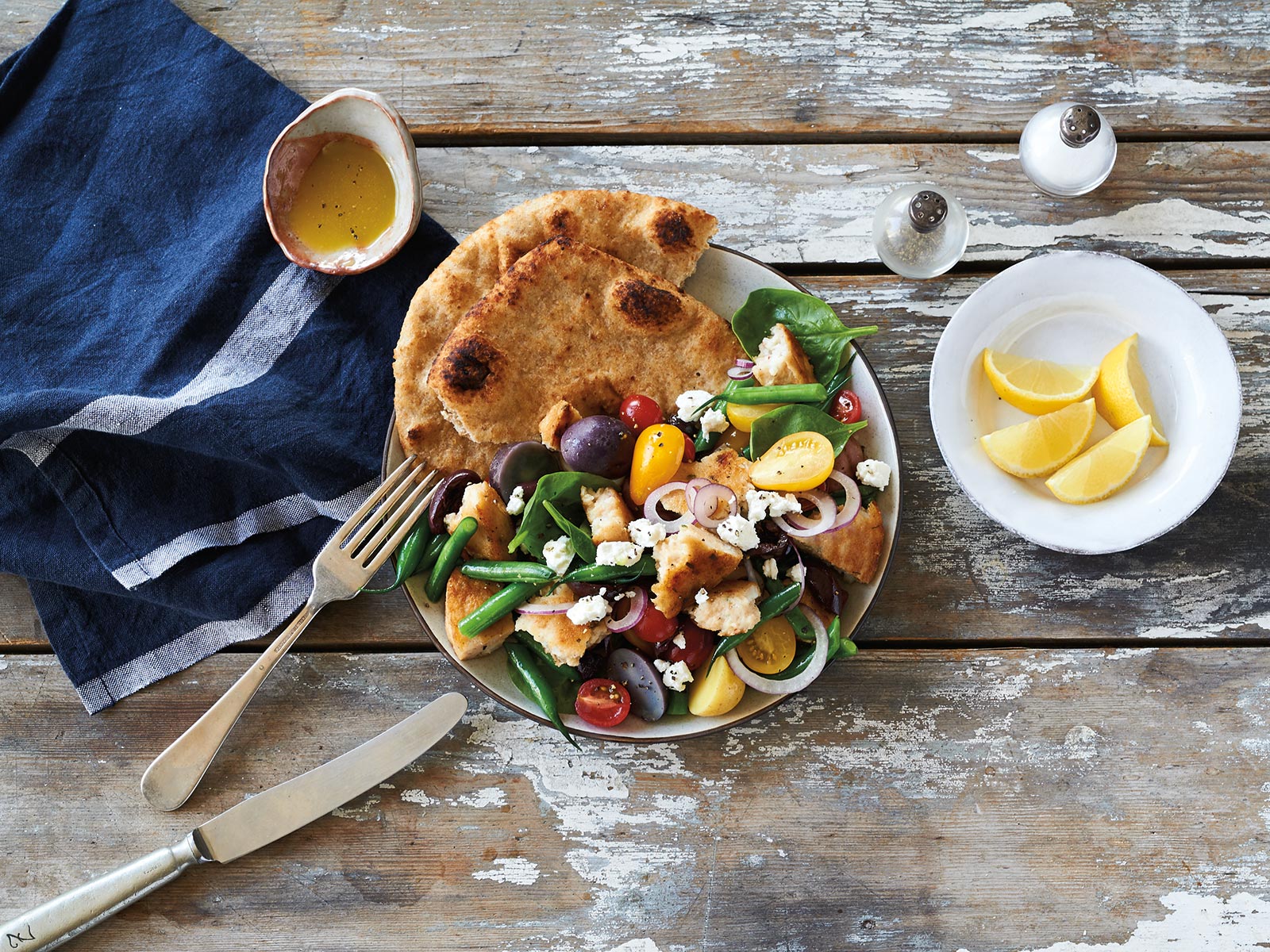 Mediterranean Style Wild Alaska Pollock Burger Salad
20 minutes 4 servings
This Mediterranean-inspired salad is perfect for a summer brunch, lunch or dinner.
Ingredients
4 Burgers Trident Seafoods® Alaskan Pollock Burgers

1 lb Fingerling Potatoes (scrubbed and quartered)

1 lb Green Beans (Whole)

1/2 Cup Red Onions (Thinly Sliced)

2 Cups Baby Spinach

1 Cup Cherry Tomatoes, sliced in half

1/4 Cup Kalamata Olives, chopped

Salt & Pepper

3 Tablespoon Lemon Juice

1 Tablespoon Dijon Mustard

5 Tablespoon Extra Virgin Olive Oil

1/2 Cup Feta Cheese, crumbled
Directions
Place potatoes in a large saucepan and add enough cold water to cover potatoes with 1 inch of water. Add salt to taste and bring to a boil over high heat. Cook until a paring knife is inserted with little resistance.

Remove potatoes with a slotted spoon to a large bowl and add the green beans to the boiling water. Cook until crisp and tender and drain. Dump beans into a bowl of ice water to stop cooking, then drain well and pat dry.

Add beans to the bowl of potatoes, along with the red onion, spinach, cherry tomatoes and olives. Season liberally with salt and pepper.

At the same time, cook the Pollock Burgers according to package directions.

In a jar with a tightly fitting lid, combine the lemon juice, Dijon mustard, olive oil, salt and pepper. Shake until well combined and pour over the salad.

Chop the burgers into large pieces and place on top of the salad.

Sprinkle with feta and serve.
Variations: If you can find baby string beans (haricot vert), use them instead of regular green beans. And if you'd like to use crumbled goat cheese instead of feta, and Nicoise instead of Kalamata olives.