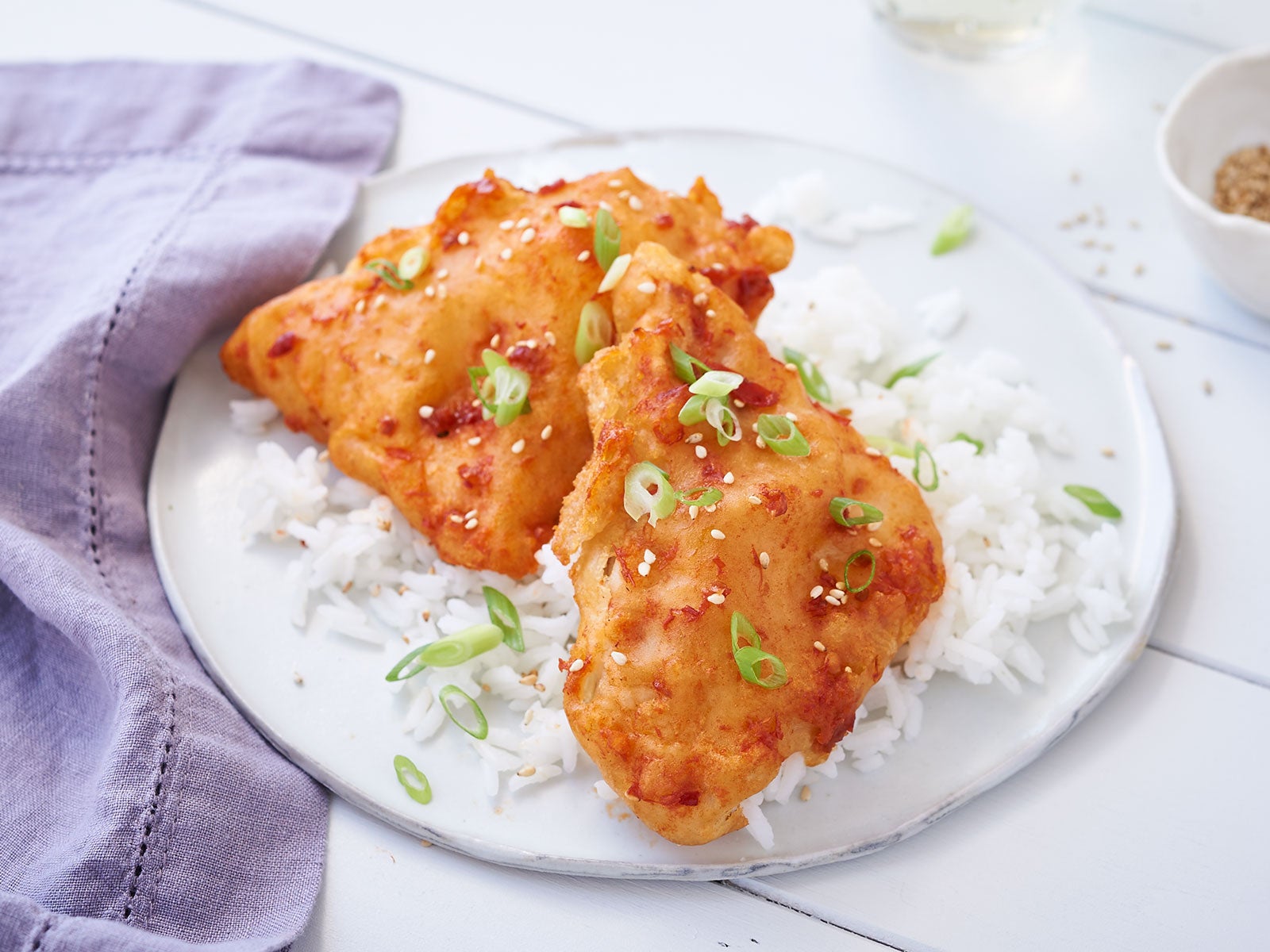 Fried Garlic Soy Wild Alaska Pollock
15 minutes 4 servings
Here's a great excuse to get out of the deep fryer: crispy, battered and fried Alaska Pollock tossed in a two-ingredient sauce. Make sure to use chili garlic sauce, not Sriracha in the dish…. it's much thicker than sriracha…perfect for coating the fish. Serve the crispy battered Alaskan Pollock fillets with steamed rice and a simple cucumber salad.
Ingredients
1/3 Cup Chili Garlic Sauce

1 Tablespoon Soy Sauce

3/4 Cup All-Purpose Flour

1/4 Cup Cornstarch

1/4 teaspoon Baking Powder

1/4 teaspoon Baking Soda

1/2 teaspoon Salt

3/4 Cup Seltzer Water

Frying Oil

Sesame Seeds

Scallions, thinly sliced

4 Fillets Trident Seafoods® Wild Caught Alaska Pollock Fish Fillets
Directions
(For best results prepare using frozen fillets)
Cut Pollock Fillets in half.

In a small bowl, combine chili garlic sauce and soy sauce. Set aside.

In a medium bowl, whisk together flour, cornstarch, baking powder, soda powder and salt. Whisk in seltzer water. Set aside.

Heat oil in fryer or large deep pot to 375°F.

Dip Alaskan Pollock fillet halves into batter, letting excess batter drip off. Fry until golden brown, about 3-4 minutes.

Toss fillets in chili sauce mixture. Sprinkle with sesame seeds and scallions; serve.