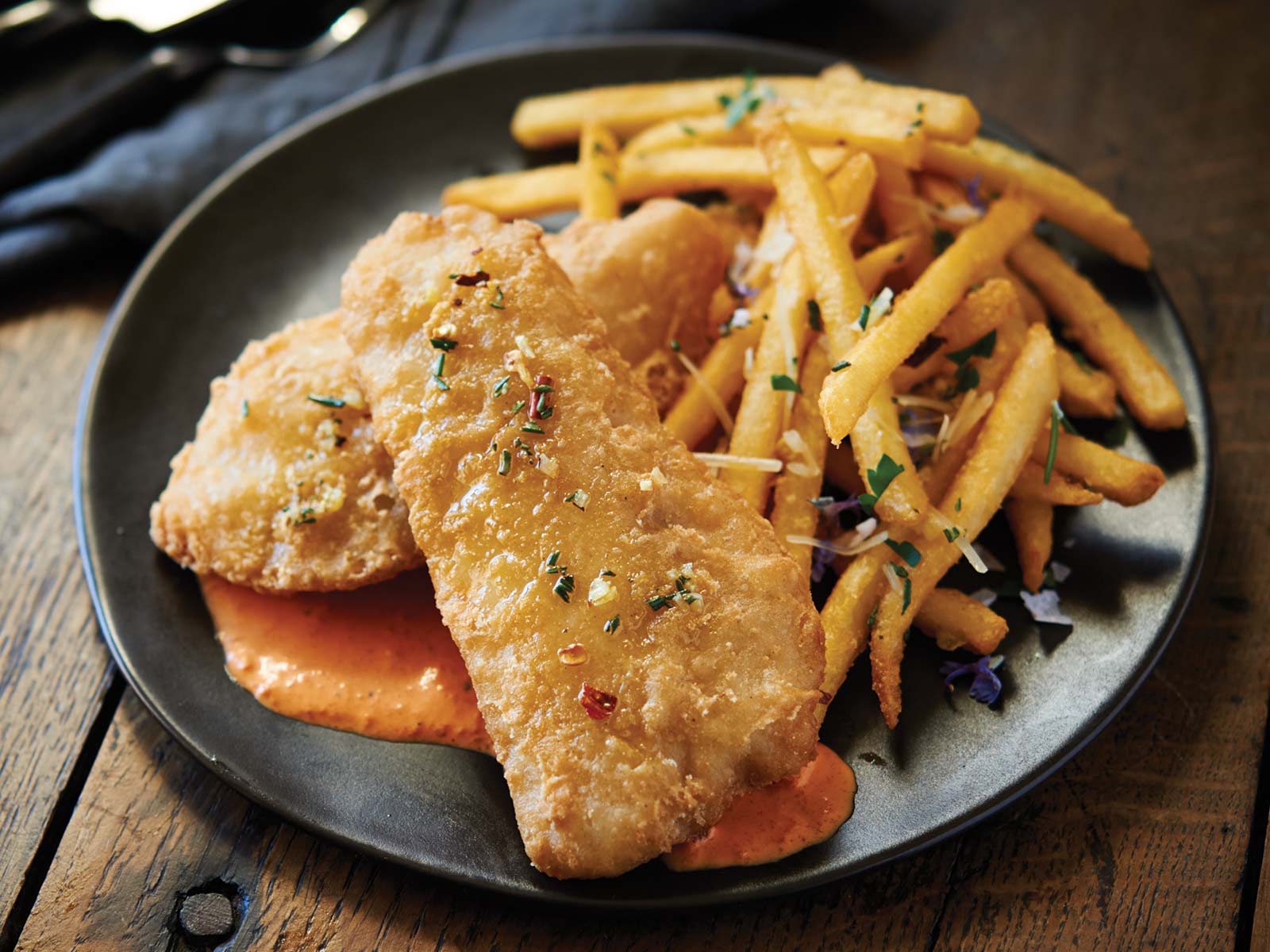 Mediterranean Alaska Cod and Chips
20 minutes 4 servings
In this twist on traditional fish 'n' chips, sautéed rosemary and garlic add some umph to the "chips," while a red pepper-paprika "tartar sauce" give our Pub House Beer Battered Cod a Mediterranean taste in this unique and lively meal. Nutrition Facts* Rounded values: Per Serving: 650 calories; 35g fat; 63g carbohydrates; 24g protein; 55mg cholesterol; 1850mg sodium *This information is calculated. Data is based on laboratory analysis, information from ingredient suppliers and USDA Standard Reference values. This information is believed to be accurate, but no warranty is implied.'
Ingredients
8 Pieces Trident Seafoods® Beer Battered Cod

1 LB Package French Fries

2 Tablespoon Extra Virgin Olive Oil

1 small Clove Garlic, minced

1 1/2 teaspoon Fresh Rosemary (Chopped)

1 Pinch Red Pepper Flakes

2 Tablespoon Mayonnaise

2 Tablespoon Sour Cream

1/2 Cup Roasted Red Pepper, chopped

1/2 teaspoon Paprika (Smoked)

Kosher Salt

Black Pepper

2 Tablespoon Parmesan Cheese (Grated)

1 Tablespoon Italian Parsley (Chopped)
Directions
Prepare Beer Battered Cod and French fries according to package directions and keep warm.

Garlic Olive Oil

In a small skillet over medium-high warm the oil. Add the garlic and cook until golden. Stir in the rosemary and pepper flakes, remove from the heat and set aside.

Red Pepper Dip

In a food processor, combine the mayonnaise, sour cream, red peppers, smoked paprika, salt and pepper. Process until well combined.

To serve, drizzle fries with half of the garlic olive oil mixture, then sprinkle with Parmesan and parsley. Drizzle the remaining garlic olive oil on the fish. Serve with red pepper mixture.
Trident Seafoods
Beer Battered Cod 2.5 lb
2.5 lb
Learn More