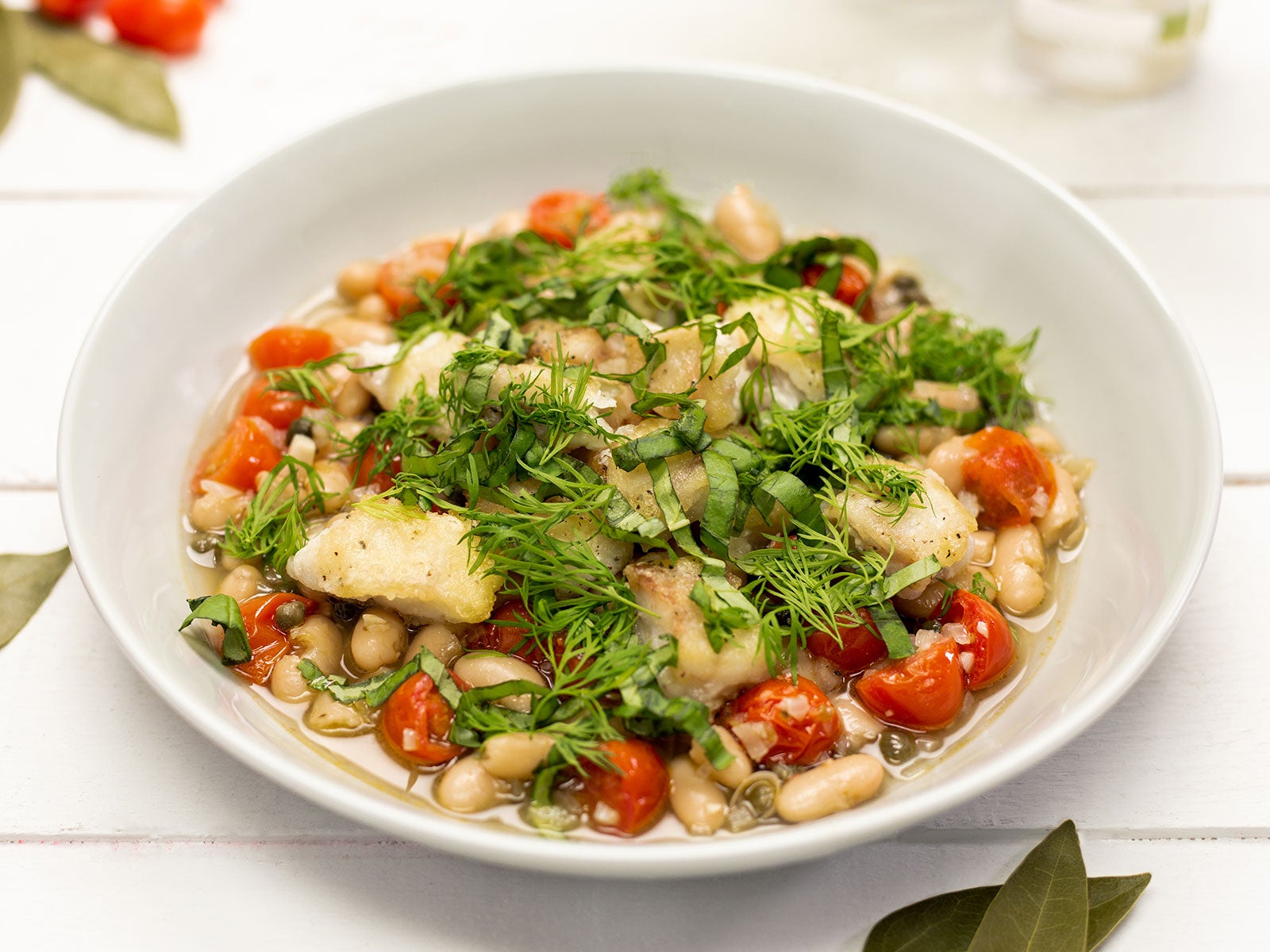 Hearty White Bean Stew with Wild Alaska Pollock
30 minutes 2-3 servings
When you take the comfort-food goodness of a white stew and pair it with crispy, pan-cooked Trident Seafoods® Wild Caught Alaska Pollock Skillet Cuts, you get a richly-flavored dinner entrée that's easy to prepare and high in protein. Nutrition Facts* Rounded values: Per Serving: 360 calories; 2.5g fat; 63g carbohydrates; 25g protein; 30mg cholesterol; 2000mg sodium *This information is calculated. Data is based on laboratory analysis, information from ingredient suppliers and USDA Standard Reference values. This information is believed to be accurate, but no warranty is implied.'
Ingredients
4 oz Trident Seafoods® Wild Caught Alaska Pollock Skillet Cuts

1 Bay Leaf

3 Cloves Garlic, finely minced

1 Shallot, finely chopped

2 Cups Fish Stock

1 14 oz can White Beans, drained & rinsed

1/2 Cup Cherry Tomatoes, sliced in half

1/8 Cup Capers, drained

Cornstarch

Salt & Pepper

Garnish Fresh Basil, sliced thin

Garnish Fresh Dill
Directions
In a medium size pot over medium-high heat, add enough olive oil to coat the bottom. Add the shallots and garlic and sauté until translucent (about 3 minutes). Add capers and continue to cook until capers have some color (about another two minutes). Add bay leaf, tomatoes, drained beans and fish stock. Cover and cook for 10-15 minutes.

Meanwhile: add about ½ cup of cornstarch to a shallow plate. Add a pinch of salt and pepper to the cornstarch and use a fork to mix the seasoning in.

Heat a skillet over medium-high heat and add some olive oil to the bottom of the pan.

While the oil is heating, begin dusting the skillet cuts in the cornstarch mixture, making sure that the entire piece is coated. Dust off the extra cornstarch and drop it carefully into the hot pan. Cook the fish until brown on all sides, about 2 minutes per side, making sure the pieces don't burn.

To serve, add more salt and pepper to taste. Ladle a healthy portion of stew on the bottom of a shallow bowl. Scatter the top with the crispy Alaskan pollock. Finish with basil and dill.
Substitute: Try using our Wild Alaska Pollock fillets!