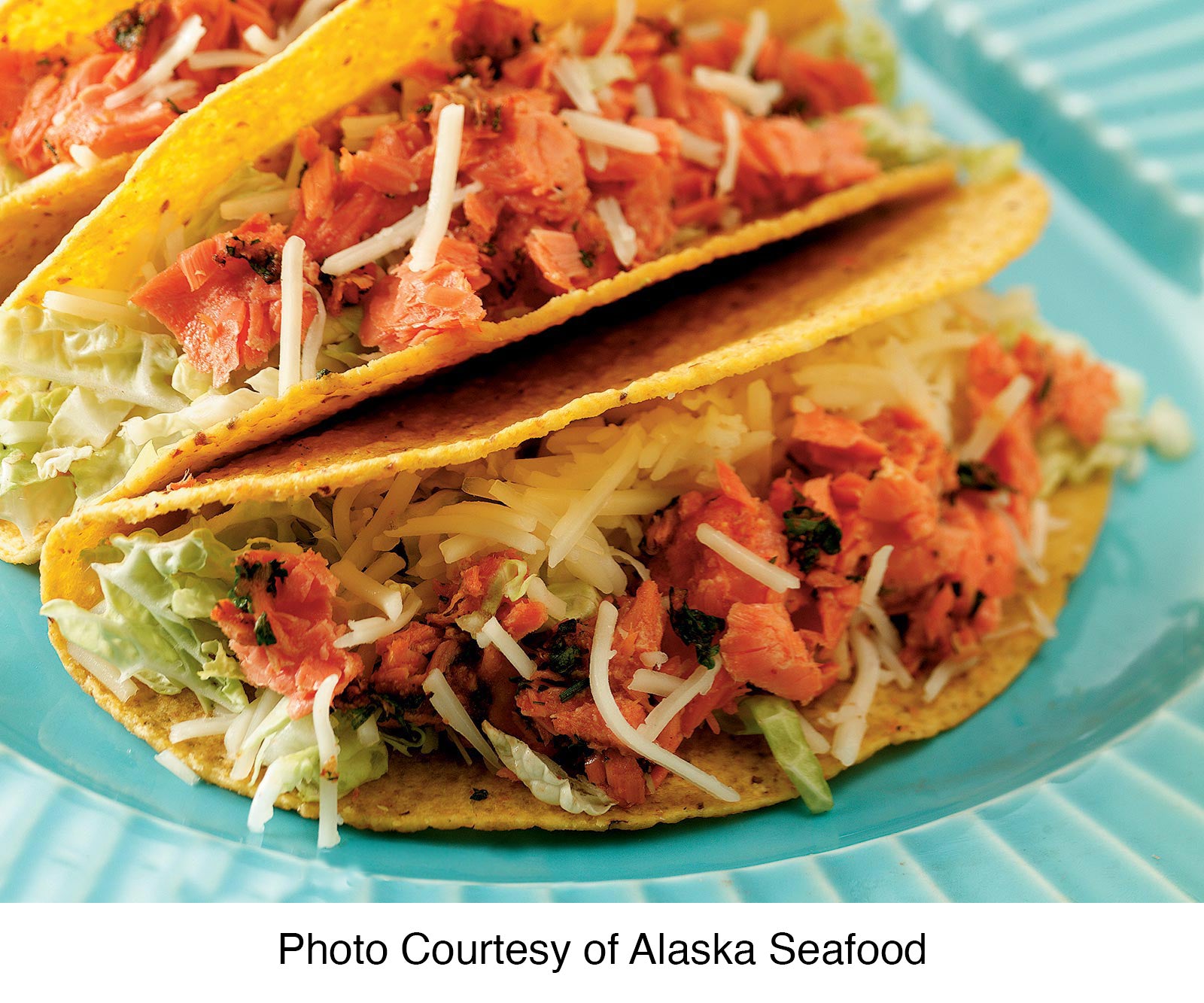 Alaska Salmon Tacos
15 minutes 4 servings
Trident Seafoods Royal Red® Red Salmon is combined with a fiesta of spices in this Mexican-style lunch or dinner. High in protein, each bite is loaded with huge good-for-you flavor, and simple prep makes this recipe a snap to whip up.
Ingredients
1 can Royal Red® Red (Sockeye) Salmon 14.75 oz

1 to 2 Tablespoon Hot pepper sauce, if desired

1 teaspoon dry or 1 Tablespoon fresh chopped parsley

1/2 teaspoon Ground Cumin

1/2 teaspoon Onion Powder

1/4 teaspoon Chili Powder

1/2 teaspoon Garlic Powder

1 teaspoon Olive Oil

1 teaspoon Lemon Juice

1 Cup Napa or Green Cabbage (thinly sliced)

2 Tablespoon Bell Pepper, thinly sliced

1 teaspoon Vinegar

1/4 teaspoon Sugar

Pinch Salt & Pepper

8 Crisp Taco shells

1/2 Cup Pica de Gallo Salsa

4 oz Monterey Jack Cheese (shredded)
Directions
Use 1 can (14.75 ounces) or 2 cans (6-7.5 oz) of Royal Red®, Royal Pink® or other Trident Seafoods® Alaska canned salmon.

In a bowl, drain and chunk salmon. Add hot pepper sauce (if desired), parsley, cumin, onion powder, chili powder, garlic powder, olive oil, and lemon juice.

In a separate bowl, toss cabbage and pepper strips with vinegar, sugar, salt and pepper. Layer cabbage mix, cheese, salmon and Pico do Gallo salsa into each taco shell.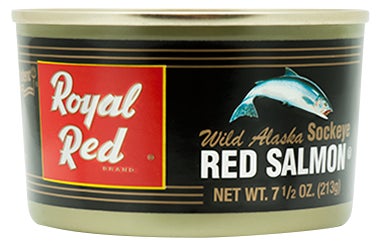 Canned Products
Royal Red® Red (Sockeye) Salmon 7.5 oz
7.5 oz
Learn More