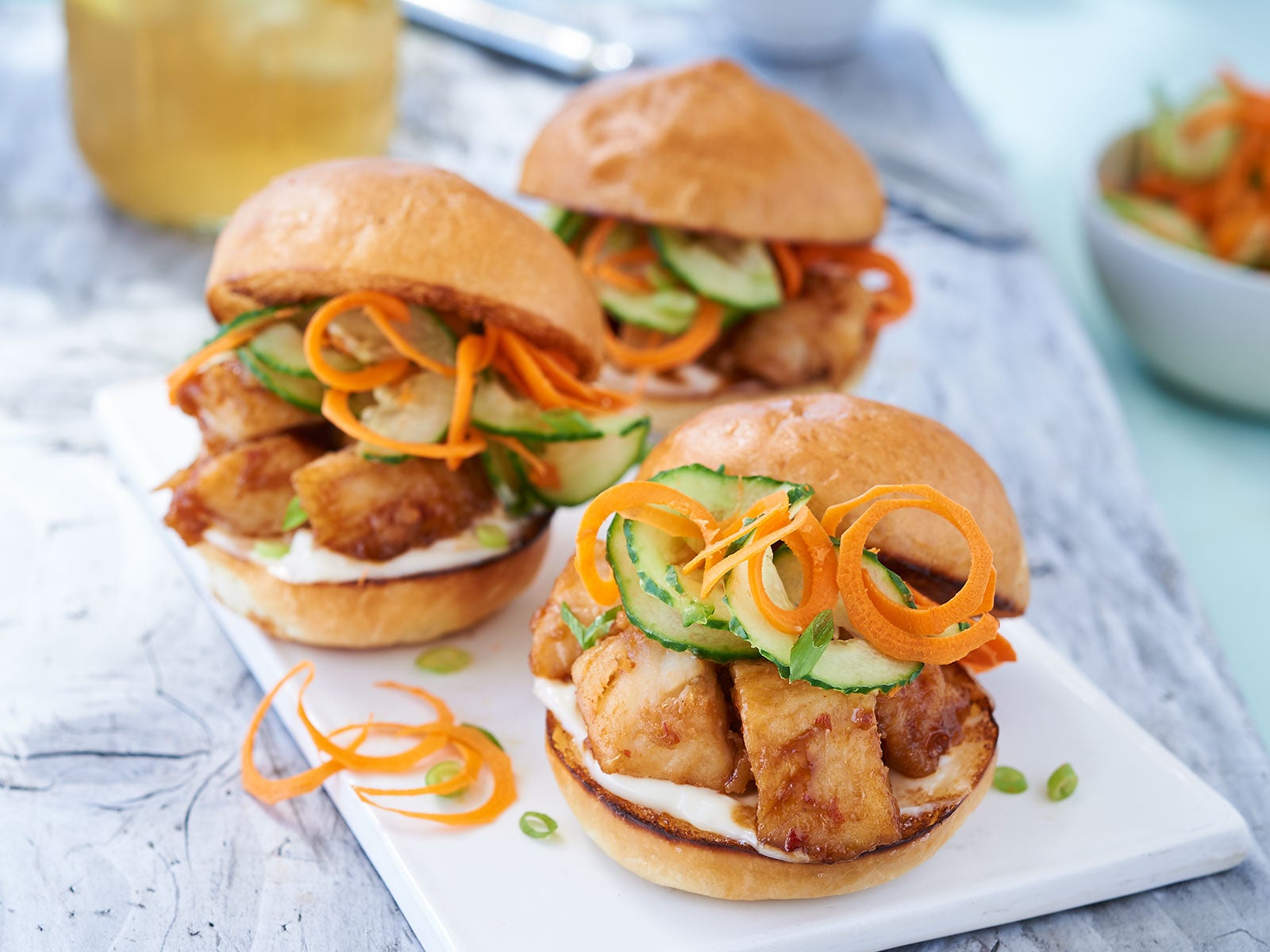 Wild Alaska Pollock Fusion Sliders
20 minutes 4 servings
Just the thing for appetizers, lunch or a light dinner, these Asian-inspired Wild Alaska Pollock Fusion sliders are filled with crunchy vegetables and spicy hoisin-sauce. Asian flavors + wild Alaska Pollock = delicious!
Ingredients
1 Cup English Cucumber, shredded

2 Scallions, thinly sliced

1 Carrot, shredded

1/2 Cup Mayonnaise

2 teaspoon Asian Sesame Oil

2 Tablespoon Vegetable Oil

1/3 Cup Hoisin Sauce

1-2 teaspoon Asian Chili Sauce

8 Each Slider Rolls (split and toasted)

16 oz Trident Seafoods® Wild Caught Alaska Pollock Skillet Cuts
Directions
(For best results prepare using frozen fillets)
Combine cucumber, scallions and carrot in a bowl. Set aside.

In a separate bowl, whisk together mayonnaise and sesame oil. Set aside.

Heat a large skillet over high heat. Add vegetable oil and Alaskan Pollock Skillet Cuts. Cook until browned and cooked through; about 5 minutes. Stir in hoisin and chili sauces; toss to coat.

Spread inside of slider rolls with mayonnaise mixture. Divide the Alaskan Pollock Skillet Cuts between the slider rolls and top with vegetable mix. Cover with roll top and serve.
VARIATION: Substitute spiralized cucumber and carrot for shredded versions.