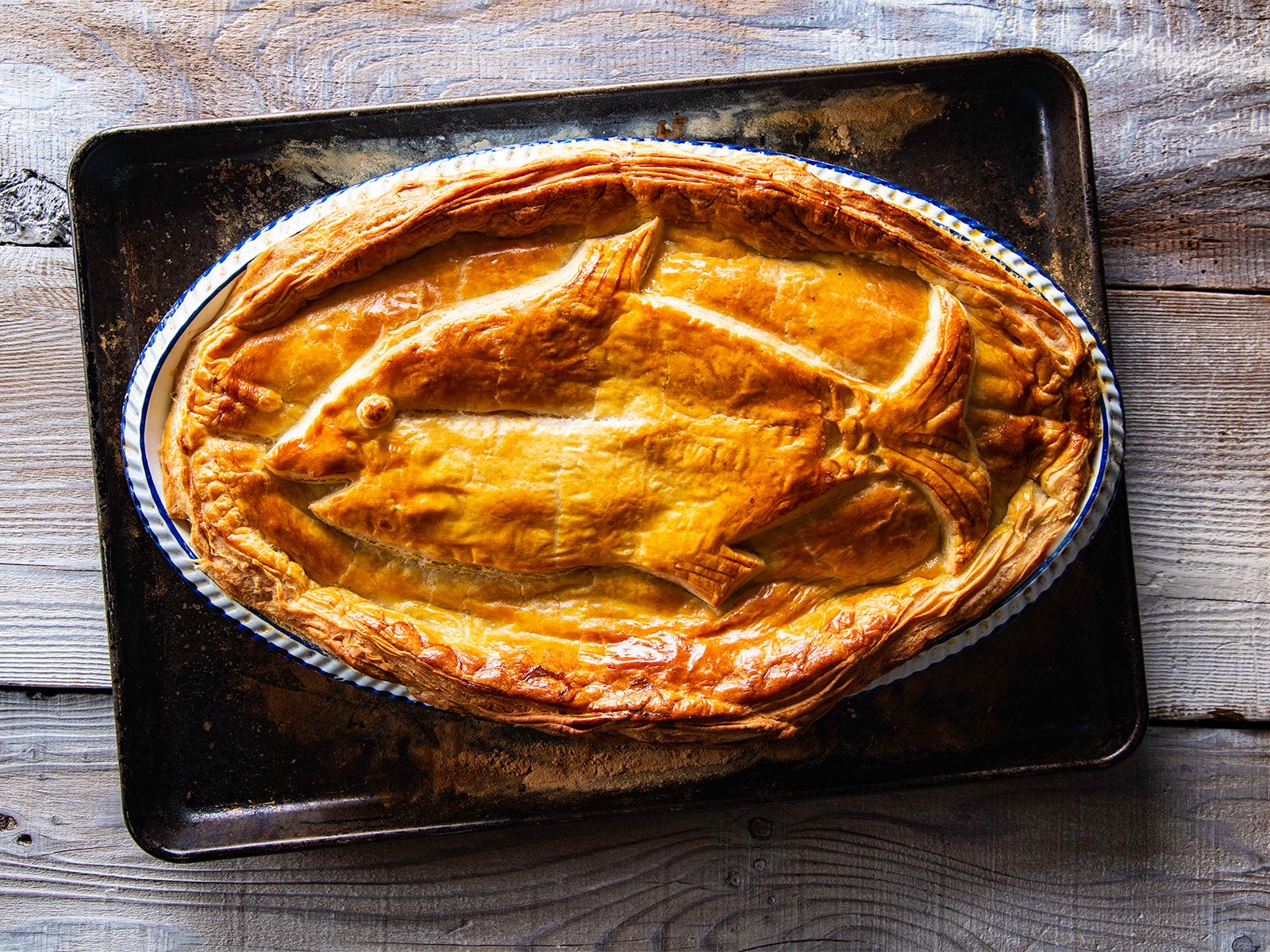 Wild Alaska Pollock Fish Pie
40 minutes 6 servings
Here's a fish dish worthy of a celebration. Easily put together in a few simple steps, this traditional fish pie features Wild Alaska Pollock bathed in a leek and tarragon flavored white sauce and covered with a lid of crisp and golden puff pastry.
Ingredients
1 Whole Onion

3 Each Whole Cloves

3 Cups Whole Milk

1 lb Trident Seafoods® Wild Caught Alaska Pollock Skillet Cuts

2 Each Leeks (cut into 1/2-inch pieces)

1-2 Tablespoons Olive Oil

6 Tablespoons Butter

4 Tablespoons All-Purpose Flour

1 Cup White Wine

2 Tablespoons chopped Tarragon

2 Tablespoons chopped Parsley

2 Cups Frozen Peas

Zest of Whole Lemon

2 sheets Packaged Puff Pastry

1 Each Egg (beaten)
Directions
Preheat oven to 425° F.

Cut onion in half. Push cloves into one half and set aside. Dice the remaining half.

Pour milk into a large sauté pan; add clove-studded onion. Bring to a low boil. Reduce to a simmer and add Wild Alaska Pollock. Simmer gently, for about 5 minutes or until the fish is just cooked (opaque, but not falling apart). Remove fish from pan and set aside to cool slightly. Strain the warm milk into a cup and set aside to use for the Béchamel sauce.

Heat 2 tbsp butter with olive oil in a small frying pan and sauté diced onion and leeks for 4–5 minutes until softened but not browned. Set aside.

Melt 4 tbsp butter in a medium-sized pot and whisk in flour until a thick roux forms. Slowly add warm milk, whisking constantly. Add wine and simmer on low heat for 5 minutes until sauce is thickened. Add salt & pepper to taste. Stir chopped herbs and lemon zest into the sauce. Add onion and leek mixture, then peas. Carefully place fish into the mixture. Spoon the fish mixture into the bottom of an oven-proof pie dish (17" oval or 9" x 13" rectangular). Cool the mixture completely in the refrigerator.

On a floured surface, roll out the first puff pastry. Cut out a fish design, keeping the dough scraps, for a later step. Set it in the refrigerator while you work on the rest.

Remove dish with filling from refrigerator. Brush egg wash around the edge of the baking dish.

Roll out the second sheet of pastry. Using the scraps from the first pastry, create a pastry ring to fit on the edge of the pie dish to create a ledge (this will prevent the pastry from collapsing when it bakes). Brush more egg wash over the top of the "ledge". Drape the rolled-out puff pastry over the pie. Trim the edges, then brush the entire surface with egg wash and add decoration on top; egg wash decoration once on the pie. If desired, use a fork around the perimeter for more design.

Place in oven for 10-15 minutes, or until the pastry begins to brown. Helpful tip: place the pie dish onto a baking tray to catch any of the mix that bubbles over when cooking! Reduce temperature to 350 and bake for another 30 minutes until the surface is golden brown and the inside is bubbling. Enjoy!
Serving suggestion: serve with boiled new potatoes and a fresh green salad.