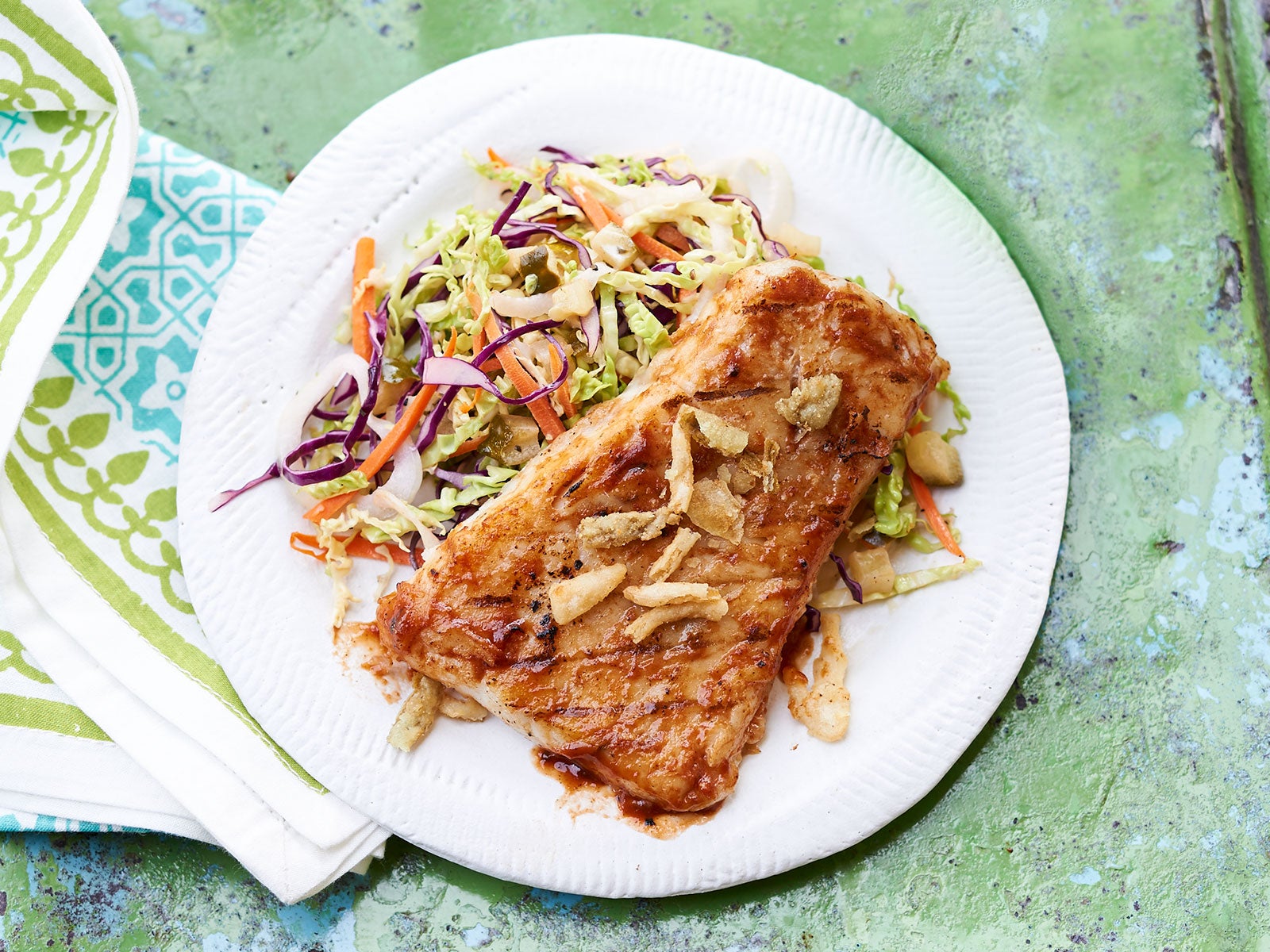 Grilled Wild Alaska Pollock with BBQ Sauce and Pickled Slaw
15 minutes 4 servings
Here's a comfort food-inspired recipe to liven up your backyard BBQ. Brush Trident Seafoods® Wild Caught Alaska Pollock Fish Fillets with BBQ sauce and serve with a tangy slaw – then top with crispy fried onions for a dash of salty crunch. A meal that works for both lunch and dinner.
Ingredients
4 Cups Coleslaw Mix (pre-packaged)

1 Cup Onion, thinly sliced

3/4 Cup Bread and Butter Pickles, chopped

1/4 Cup Bread & Butter Pickles Juice

Cooking Spray

Salt and ground Black Pepper (to taste)

1 teaspoon Ground Cumin

1/4 Cup Mayonnaise

BBQ Sauce

Crispy Fried Onions

Jalapeno Peppers (Chopped)

4 Fillets Trident Seafoods® Wild Caught Alaska Pollock Fish Fillets
Directions
(For best results prepare using frozen fillets)
In a large bowl, toss together coleslaw mix, sliced onion, pickles, and pickle juice. Season with salt and pepper.

Preheat the grill to medium-high and oil the cooking grates.

Spray fillets with cooking spray and season with salt, pepper and cumin.

Grill Alaskan Pollock Fillets for 5 minutes. Turn and brush with BBQ sauce; cook 2 minutes. Turn and brush again, and cook another minute.

Serve with a slaw mixture, sprinkled with crispy fried onions and jalapenos.