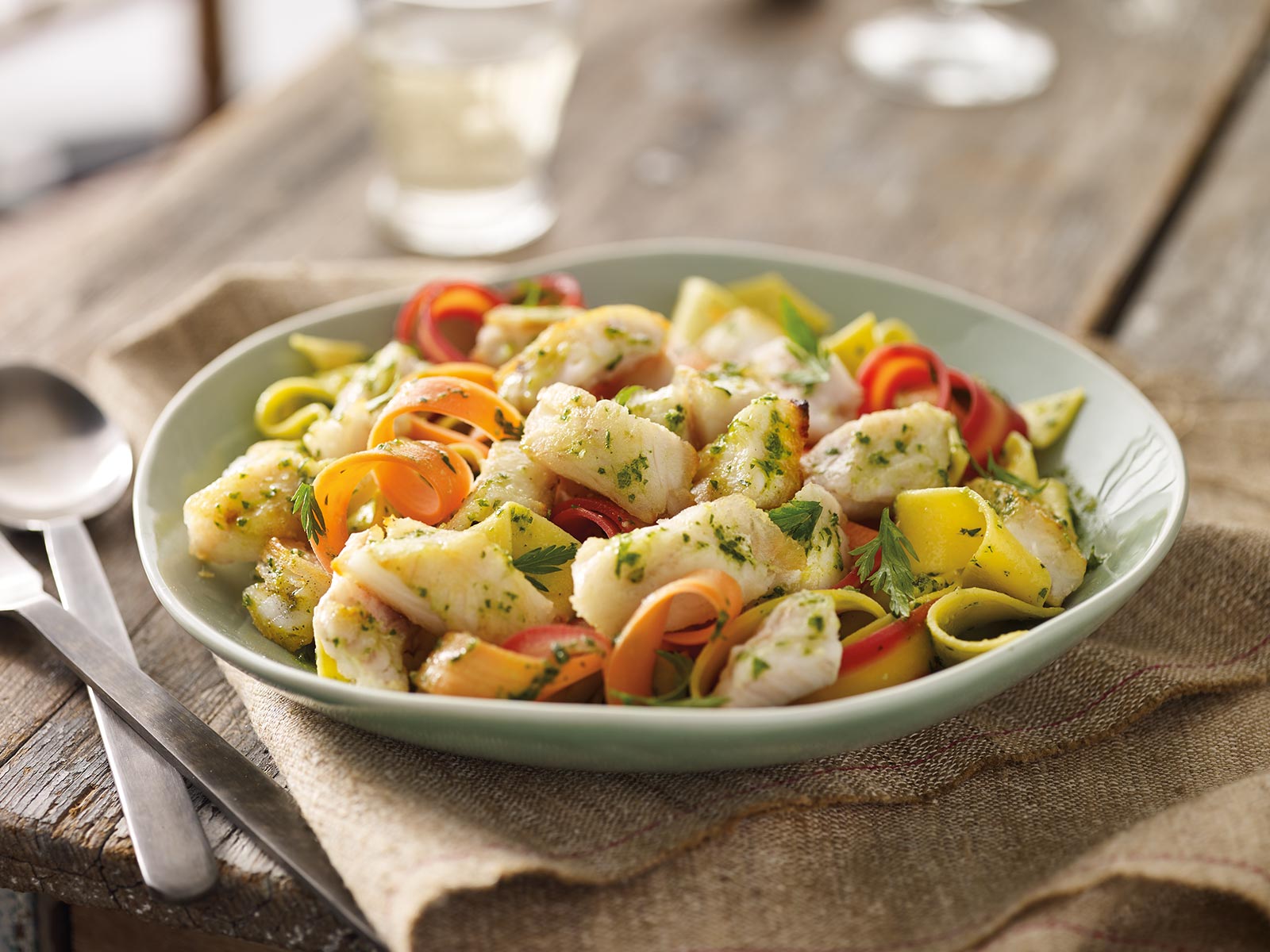 Wild Alaska Pollock Pappardelle with Carrot-Top Pesto
12 servings
Ingredients
3 lb Wild & Simple Redi Cuts™ Wild Alaska Pollock .36 oz 424913

1 Cup White Wine Vinegar

1 Cup Water

1/4 Cup Sugar

To taste Salt & Pepper

2 teaspoon Coriander

2 Bay Leaves

6 Multicolored Carrots, peeled & ribboned, heads removed & saved

1 oz Basil

1/4 Cup Pine Nuts, toasted

4 Cloves Garlic

1/2 Cup Parmesan Cheese (Grated)

2 Cups Olive Oil

3 lb Papardelle pasta
Directions
To prep the Carrots: combine vinegar, water, sugar, salt & pepper, coriander, and bay leaves. Bring to a boil. Remove from heat and add 4-6 carrots (peeled & ribboned, heads removed & saved).

To prep the Pesto Sauce: purée 4 oz of carrot tops, basil, pine nuts, garlic, and Parmesan in a food processor until finely minced. Add olive oil in a steady stream; season with salt and pepper. Mix.

To cook the Redi Cuts™: sauté from frozen in olive oil until cooked through, about 6-8 minutes.

Drain carrots.

Cook pasta until al dente. Combine with pesto sauce and drained carrots

Combine pasta, drained carrots, and pesto sauce. Mix. Top with fish and parmesan. Serve.