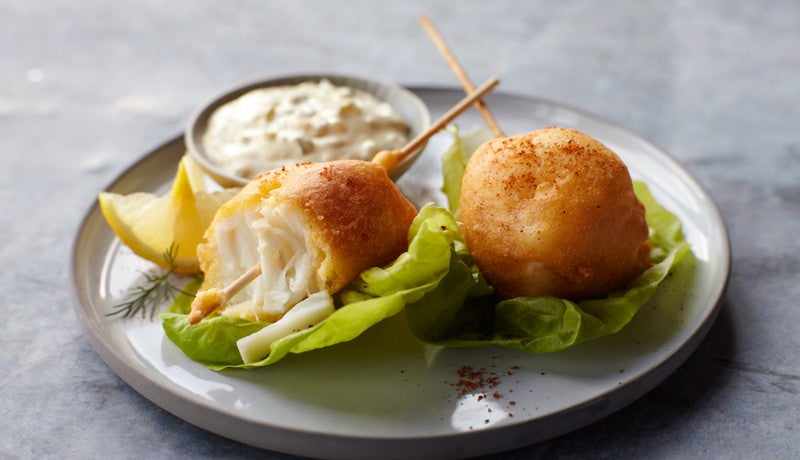 Alaska Halibut Corn Dogs
15 minutes 8 servings
Ingredients
Corn Dog Batter
3 cups Pancake Ready Mix

1 1/2 cups cornmeal

1 TBSP Kosher salt

2 1/2 cups water

2 TBSP water
Dijon Tartar Sauce:
1 cup Tartar Sauce, prepared
Alaska Halibut:
16 pieces Halibut Fillet Portions 6oz Skinless, Boneless 417600

4 tsp Old Bay seasoning

16 skewers, 6-inch ea.          
Assembly:
As needed Oil, for frying

16 small leaves of lettuce, washed and dried
Directions
Corn Dog Batter:

Combine all ingredients except the 2 Tbsp. of water and mix well. Make sure there are no lumps in batter. Batter should be the consistency of a thick pancake batter. Use the 2 Tbsp. of water to make the adjustment if needed. Refrigerate. May be made one hour before service.

Halibut:

Cut into 2 oz portions, patted dry.

Dijon Tartar Sauce:

Blend the tartar sauce and Dijon mustard. Refrigerate until needed.
DIRECTIONS PER SERVING Assembly: Preheat deep fryer to 350°F. Season two of the 2 oz. halibut pieces with ¼ tsp. Old Bay seasoning. Skewer the fish and dip in prepared Corn Dog Batter, being careful not to let the fish fall off the skewer. Carefully place in heated oil and fry until golden brown and fish is cooked through, about 4-5 minutes. Drain. Place on two lettuce leaves and serve with 2 Tbsp. Dijon Tartar Sauce on the side. ALTERNATIVE SERVING SUGGESTIONS
Serve Corn Dog Halibut with prepared French fried potatoes and malt vinegar for a Fish & Chips experience.
Toast the inside of two mini hoagie rolls. Spread with Dijon Tartar Sauce and place Corn Dog Halibut in roll. Top with shredded lettuce.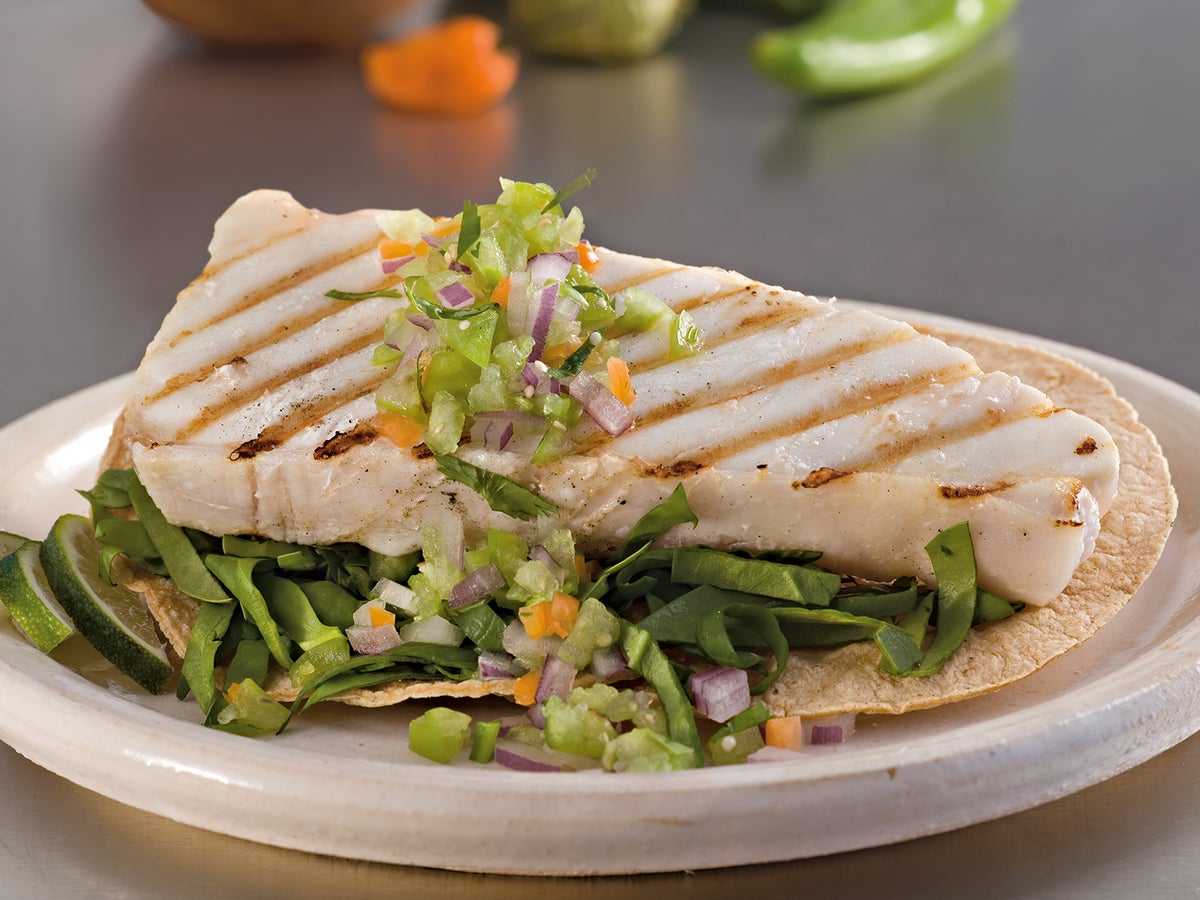 Alaska Halibut Fillet Portions 6oz Skinless, Boneless
Learn More