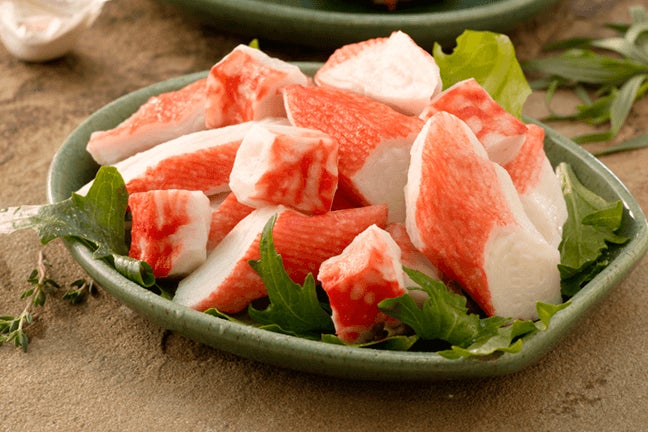 SEA LEGS® Cool & Spicy Seafood Salad Wraps
11 minutes 10 servings
Ingredients
2-1/2 lb LEG-A-SEA® Salad Style Surimi Seafood

5 oz Tabasco Brand Pepper Sauce

1 lb Mayonnaise

10 oz Celery (Diced)

5 Count Eggs (Hard Boiled & Chopped)

2 Tablespoon Lemon Juice

3 Tablespoon Fresh Tarragon (Chopped)

1/2 teaspoon Ground Black Pepper

10 oz Romaine

5 Each Flour Tortilla

2 Each Tomatoes (sliced)

5 Each Lavosh

2-1/2 oz Green Onion, finely sliced
Directions
In a large bowl, mix 8 oz. SEALEGS, 2 Tbsp. Tabasco, 4 oz. mayonnaise, 1/2 oz. green onions, 2 oz. celery, 1 egg, 1-1/2 tsp. lemon juice, 2-1/4 tsp. tarragon and 1/8 tsp. black pepper.

Place 2 oz. romaine, in a row, on the tortilla.

Place 4 slices of tomato across the romaine. Drain 8 oz. of SEALEGS and Tabasco mixture and across the top of the tomatoes.

Tightly roll the tortilla, trim the uneven ends off, and slice in half.
Serve the wrap in one piece, or slice the piece in half.