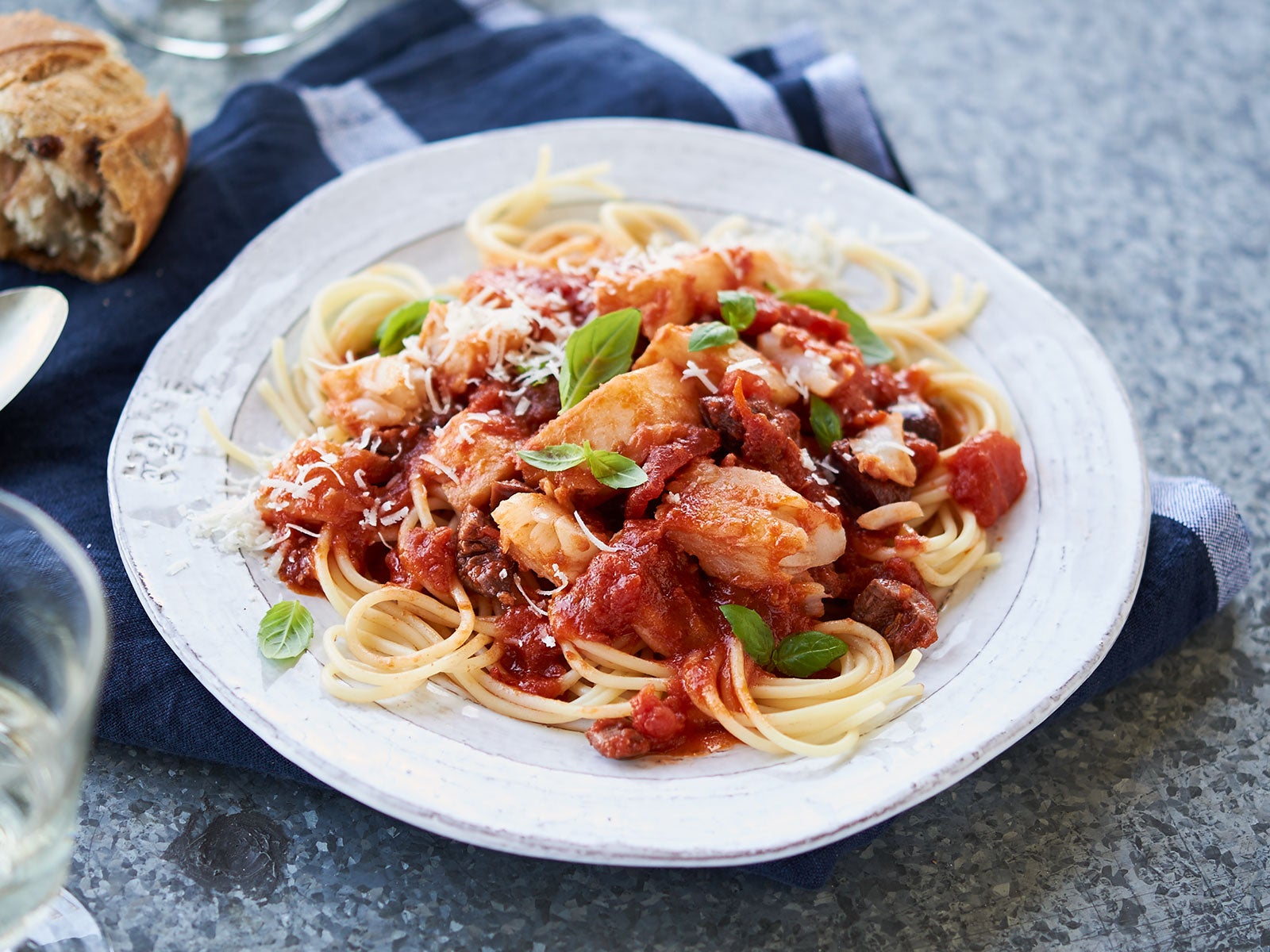 Spicy Wild Alaska Pollock with Pasta
20 minutes 4 servings
Fast, delicious and loaded with both protein and fiber, here's a great weeknight Alaskan Pollock pasta dish, perfect for a family dinner. Use either a can of diced tomatoes or a can of whole tomatoes broken up in the skillet. You can also substitute whole grain or gluten-free pasta for the dried semolina spaghetti.
Ingredients
12 oz Spaghetti Noodles

3 Tablespoon Extra Virgin Olive Oil

2 Garlic Cloves (peeled and smashed)

1 28 oz can Diced Tomatoes

Salt and ground Black Pepper (to taste)

2 Pinches Crushed Red Pepper Flakes

1/3 Cup Kalamata Olives, chopped

Parmesan Cheese (Grated)

Fresh Basil Leaves

8 Ounce Trident Seafoods® Wild Caught Alaska Pollock Skillet Cuts
Directions
(For best results prepare using frozen fillets)
Cook pasta until al dente. Drain well and keep warm.

At the same time: heat olive oil in a large skillet over medium-high heat. Add garlic and cook until golden.

Carefully (to avoid splattering) add diced tomatoes to the skillet. Add salt, black pepper, red pepper flakes and olives; simmer until reduced and flavorful, about 10-15 minutes.

Stir in Skillet Cuts and heat until cooked through, stirring a few times, about 3-5 minutes.

Divide pasta between serving dishes. Top with sauce, sprinkle with Parmesan, and top with torn basil pieces and serve.