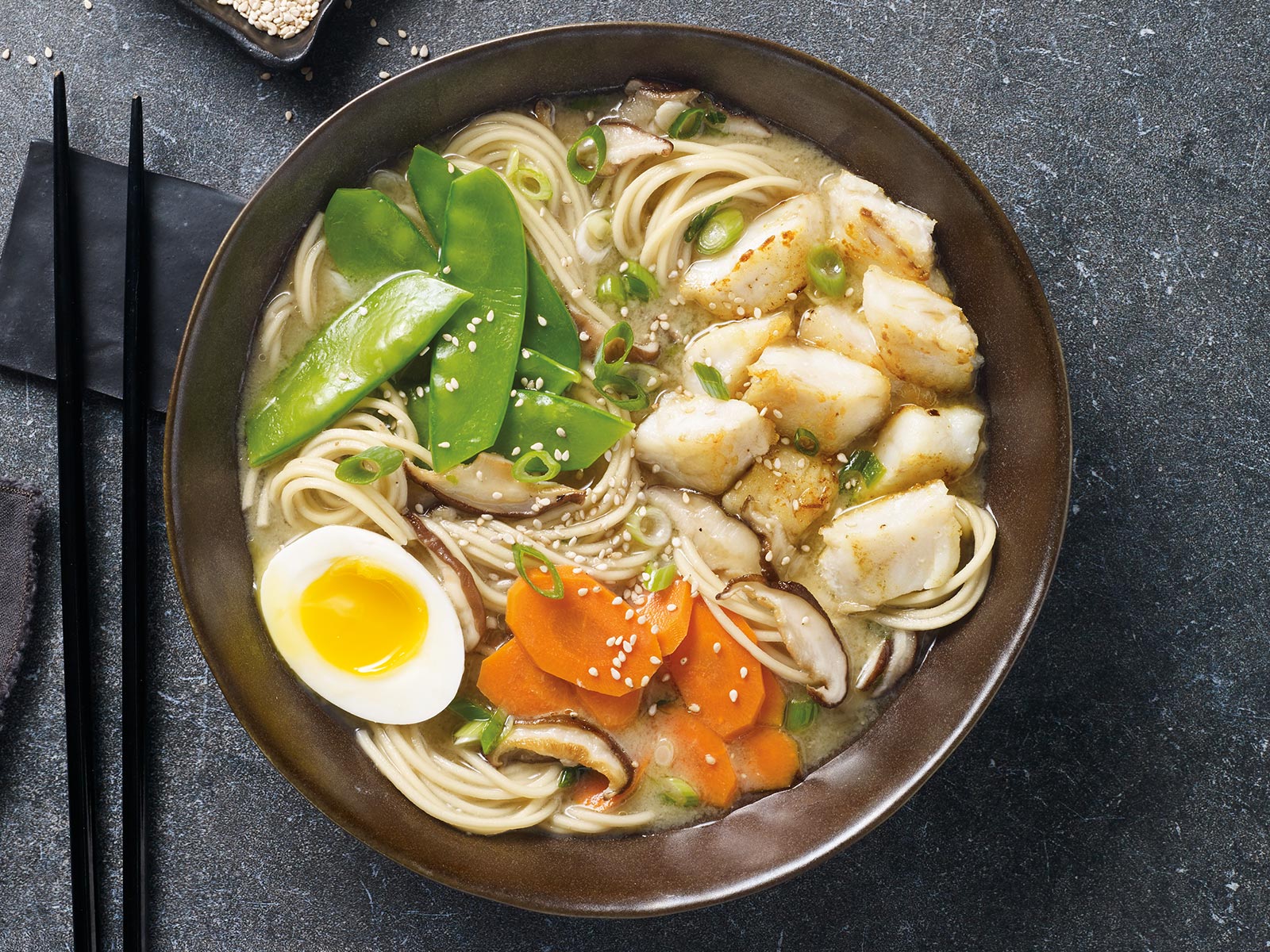 Wild Alaska Pollock Miso Ramen
12 servings
Ingredients
3 lb Wild & Simple Pan Redi™ Wild Alaska Pollock 16.5lb Deep Skinned, Boneless 424912

3 oz Black Garlic

1/4 Cup Sesame Oil

1/4 Cup Vegetable Oil

2-3 teaspoon Chili Garlic Sauce

6 Each Eggs

12 oz Snow Peas (Trimmed)

3 Large Carrots, thinly sliced

Oil for sauteing

18 oz Shiitake Mushrooms (stemmed and sliced)

12 Scallions (thinly sliced, white and green parts separated)

6 Liters Dashi Broth

3/4 Cup Soy Sauce

1 1/2 Cups White Miso

3 lb Ramen Noodles (fresh)

Toasted Sesame Seeds
Directions
Blend all the ingredients for the Black Garlic Oil (black garlic, sesame oil, vegetable oil, chili garlic sauce).

Hard-cook eggs in boiling water for 6 minutes. Transfer to ice bath.

Blanch snow peas and carrots and transfer to an ice bath.

Sauté mushrooms and white parts of scallions until browned and crispy. Add dashi and soy sauce and bring to a boil. Whisk in miso.

Cook noodles and divide them between 12 bowls. Top with Pan Redi Alaskan Pollock, eggs, snow peas, carrots, and green parts of scallions.

Sprinkle with sesame seeds and serve with Black Garlic Oil.