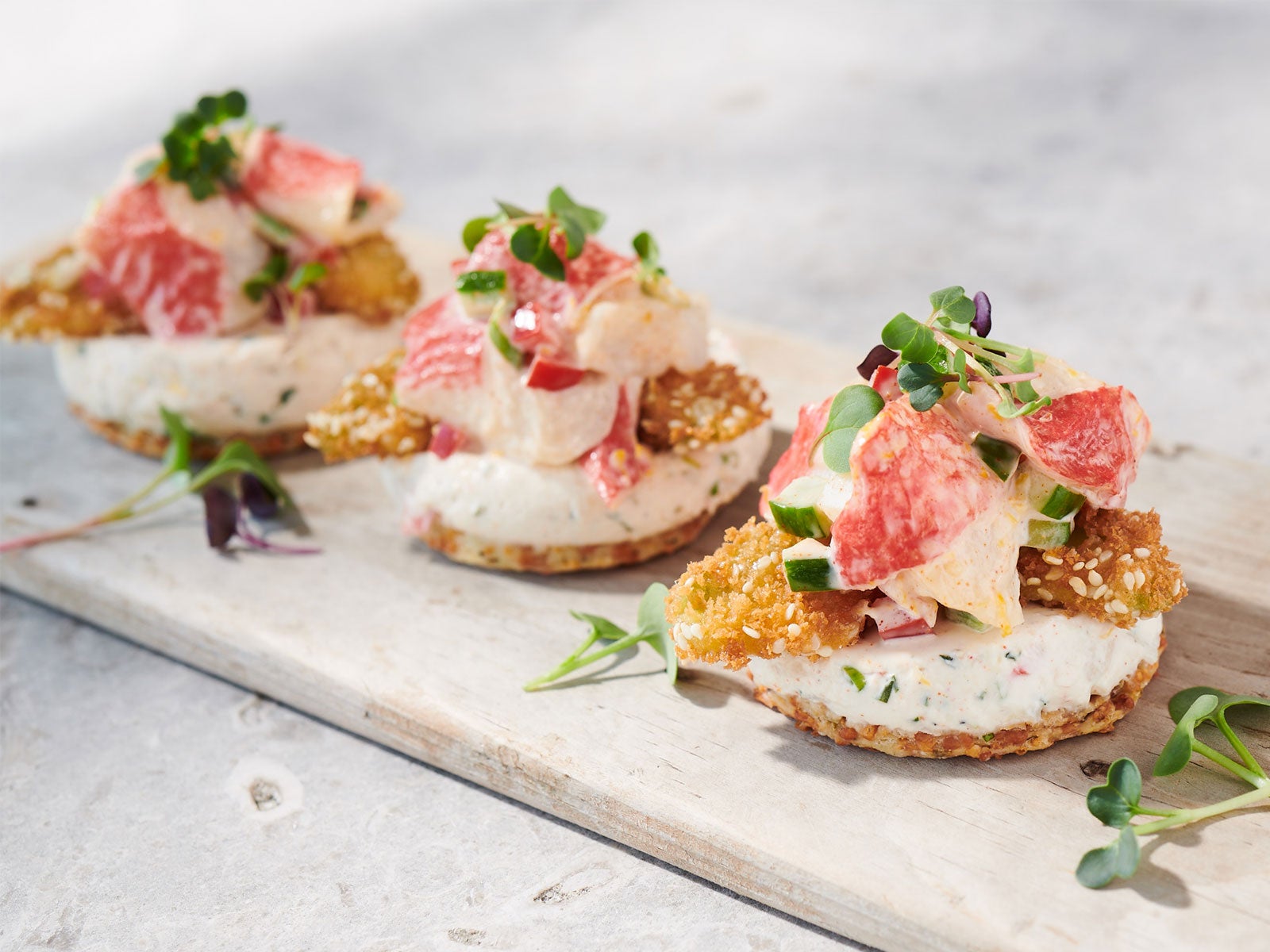 Seafood Panna Cotta
6 servings
Ingredients
Greek Yogurt Panna Cotta
1/2 teaspoon Gelatin

1 tablespoon Water

2 oz Heavy Cream

4 oz Greek Yogurt (Plain)

1/2 tablespoon Chives, finely chopped

1 teaspoon Tarragon, chopped

3/4 teaspoons Lemon Juice
Seafood Salad
12 oz Captain Jac® Flake Style Surimi Seafood 2802905801

1/2 tablespoon Lemon Juice

1/2 teaspoon Lemon Zest

1/8 teaspoon Dijon Mustard

A few drops of Cayenne Pepper Hot Sauce

Pinch MSG

Pinch Salt

Pinch Paprika

Pinch Cayenne Pepper

Pinch Ground Black Pepper

4 oz Mayonnaise

2 teaspoons Lemon Zest

2 Scallions, thinly sliced

2 oz Red Bell Pepper, diced

3 oz Cucumber, finely chopped

1/4 teaspoon Cayenne Pepper

1/4 teaspoon Salt

1/4 teaspoon Paprika

1/4 teaspoon Garlic Powder
Red Pepper Coulis
1 Red Bell Pepper, roasted, seeded and peeled

1 teaspoon Red Wine Vinegar

1/8 teaspoon Salt

1-2 oz Canola Oil
Chive Parmesan Cookie
2.7 oz All-Purpose Flour

2 oz Grated Parmesan Cheese

1 tablespoon Chives, minced

1 oz Chilled Butter, diced

1/8 teaspoon Salt

Pinch Ground Black Pepper
Fried Avocado
1/4 cup All-Purpose Flour

Pinch Salt

Additional for sprinkling Salt

Pinch Black Pepper

Pinch Paprika

1 large Egg

1/2 cup Panko Bread Crumbs

1/4 cup Sesame Seeds

1 Firm ripe Avocado, peeled and pitted

Enough for frying Canola Oil
Enough for topping Microgreens
Directions
Greek Yogurt Panna Cotta

Sprinkle gelatin over cold water; let stand until softened, 5 minutes. At the same time, bring cream to a simmer. Off the heat, whisk in gelatin.

In a bowl, whisk yogurt until smooth, gradually whisk in gelatin mixture and remaining ingredients.

Pour into 6 ramekins and refrigerate until set. Invert each panna cotta onto plates.

Seafood Salad

Mix together lemon zest, scallions, red pepper, cucumber, cayenne, salt, paprika and garlic powder. Stir in surimi.

Red Pepper Coulis

Combine pepper, vinegar and salt in blender. Stream in oil and puree until smooth. Transfer to squeeze bottle.

Chive Parmesan Cookie

Preheat oven to 350°F. Mix flour, parmesan, chives, salt and pepper. Cut in butter, add 2-3 tablespoons ice water. Refrigerate at least 10 minutes. Roll thin and cut in 3-inch circles. Transfer to cookie sheet, chill 10 minutes more. Bake 10-15 minutes.

Fried Avocado

Cut avocado into eighths. Combine flour, salt, pepper and paprika in one bowl. Beat egg in another bowl. Mix panko and sesame seeds in a third bowl. Dip avocado slices in flour, then egg, then panko and fry at 350°F. until golden. Sprinkle with salt.

To plate: drizzle red pepper coulis on plate, place one parmesan cookie on top, top with panna cotta, seafood salad, fried avocado and microgreens.