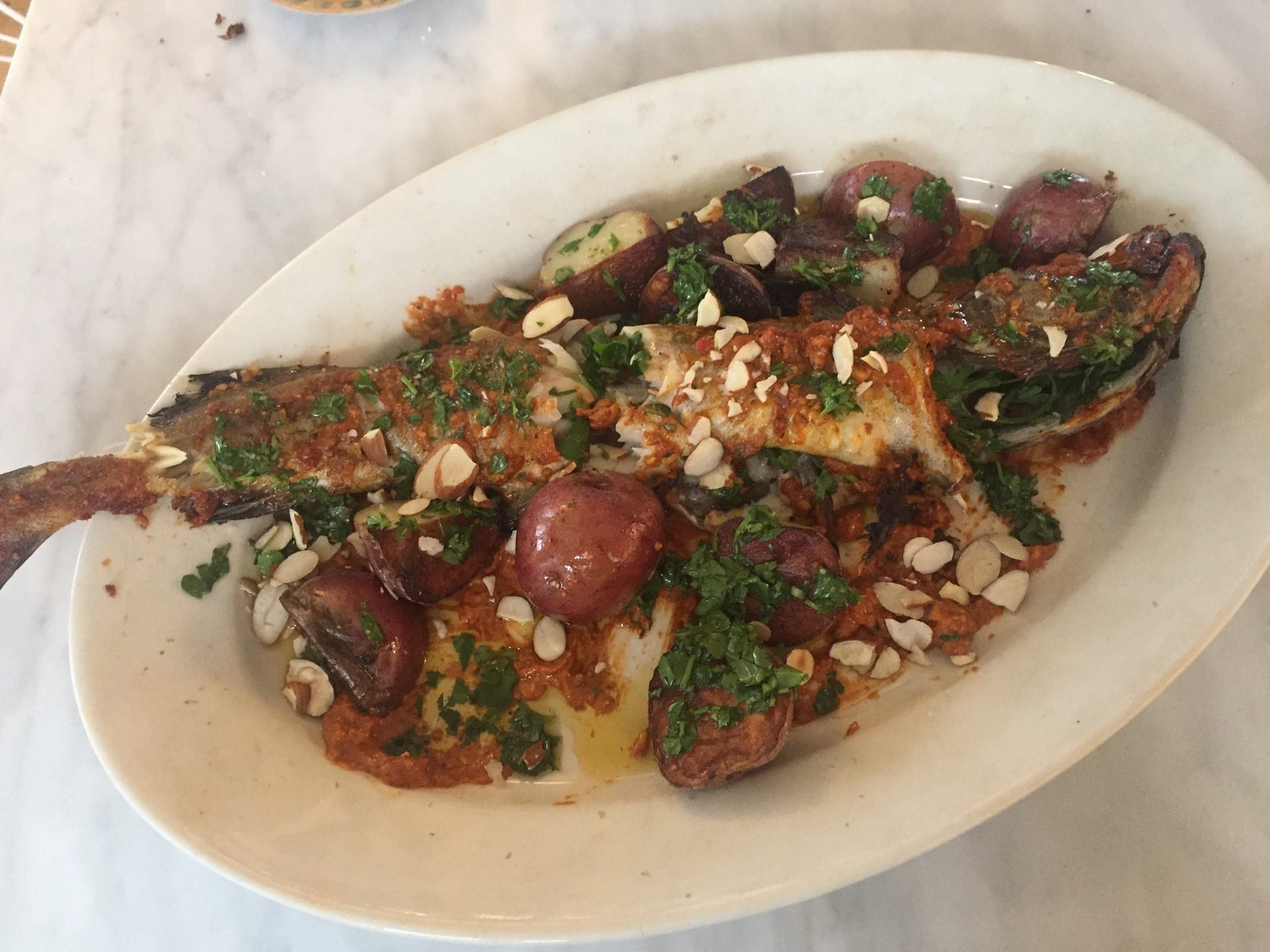 Roasted Wild Alaska Pollock with Crispy Potatoes & Romesco
15 minutes 2 servings
Ingredients
ROMESCO
1 each large roasted red pepper

1 clove garlic, chopped

1/3 cup toasted almonds

2 Tbsp tomato paste

4 tsp 4 teaspoons red wine vinegar

1/2 cup 1/2 cup extra-virgin olive oil

pinch Pinch cayenne
POTATOES
Kosher salt

Olive oil

1 lb medium size red-skin potatoes, quartered
FISH
1 each 1-2 LB Whole Wild Alaska Pollock IQF 428540

Salt & freshly ground black pepper
TOPPING
1 bunch flat-leaf parsley

2 Tbsp Olive Oil

Toasted slivered almonds
Directions
ROMESCO: combine all the ingredients in a food processor and pulse. Season.

POTATOES: Sprinkle a skillet with salt and coat with oil. Add the potatoes cut sides down and cook until browned, 10 minutes. Cover and cook until tender, 10-20 minutes.

FISH: preheat oven to 450°F. Rinse and pat dry Whole Wild Alaska Pollock. Season fish inside and out with salt and pepper and stuff the cavity with sprigs of parsley. Spread 1-2 tablespoons Romesco on top, cover lightly with foil and roast until cooked, 15-20 minutes.

TOPPING: chop parsley and mix ¼ cup with 2 tablespoons olive oil, season.

SERVE: smear the serving platter with Romesco and place fish and potatoes. Top with parsley mixture and toasted almonds.