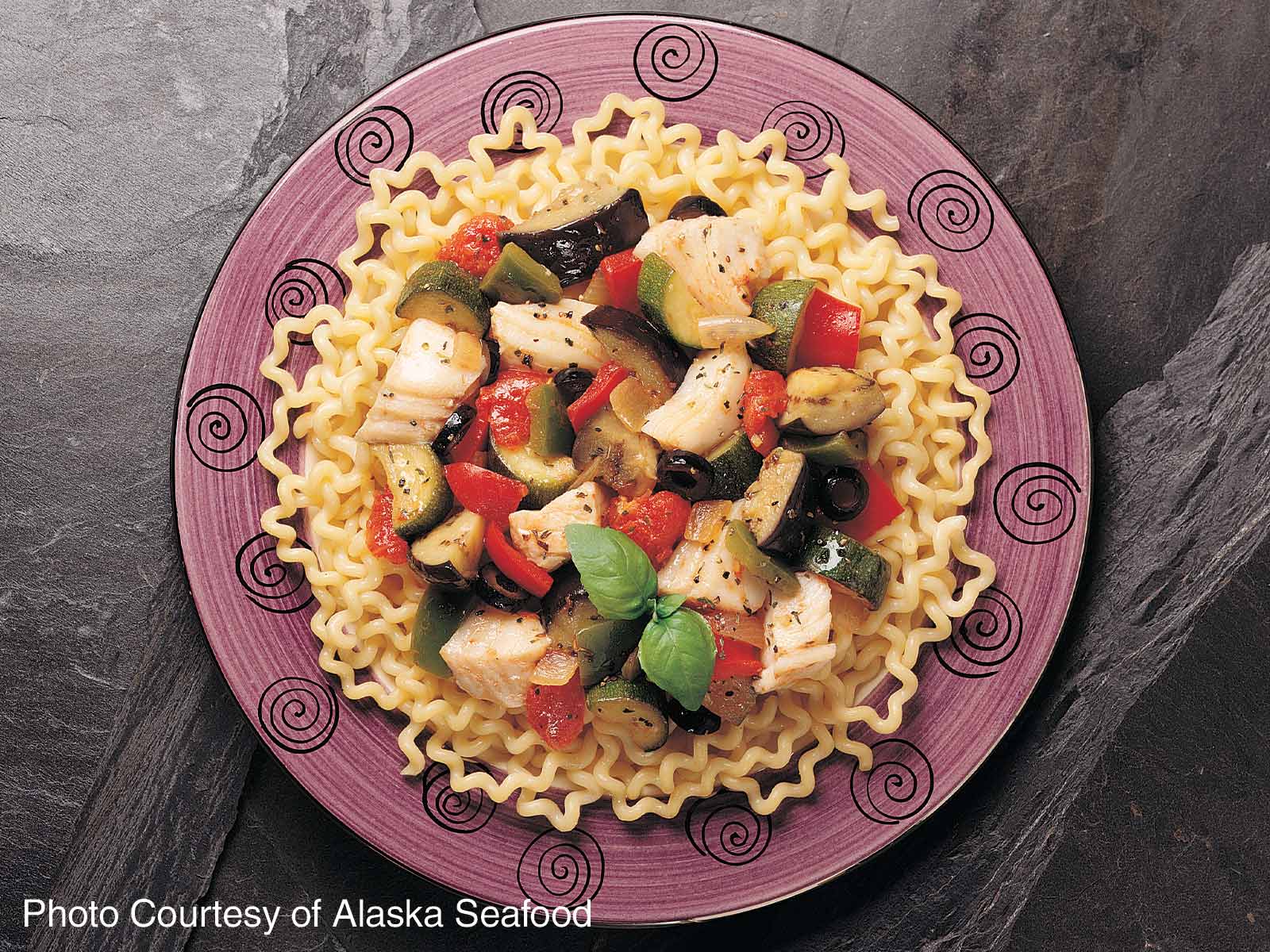 Halibut Ratatouille
24 servings servings
Ingredients
1 Tablespoon Salt

9 Cups Onions (Coarsely Chopped)

6 Cups Green Bell Peppers (Seeded, Cut into 1-inch Cubes)

2 Tablespoons garlic, minced

9 lb Halibut Fillet Portions 3oz Skinless, Boneless

To taste, Ground Black Pepper

4 Quarts Zucchini, halved & sliced, 1-inch thick

6 Cups Red Bell Peppers (Seeded and cut into 1-inch Cubes)

1/4 Cup Dry Italian Herb Seasoning

1-10 lb. Can Canned Whole Tomatoes in Juice

1 Cup Ripe Olives (Sliced)

2 Cups White Wine

4 Quarts Eggplant (Cut into 1-1/2 inch Cubes)

3 Cups Olive Oil
Directions
Combine eggplant, 1 cup olive oil and salt; toss to mix. Place in hotel pan; cover with foil and bake at 400°F for 35 minutes or until eggplant is just tender. Uncover and keep warm.

Heat remaining oil in large skillet; sauté zucchini, onions, bell peppers, Italian seasonings and garlic until vegetables are tender.

Add tomatoes, halibut cubes, olives and pepper; simmer until fish is firm.

Stir into eggplant mixture with wine; cook until heated through.

Serve hot over pasta or rice.