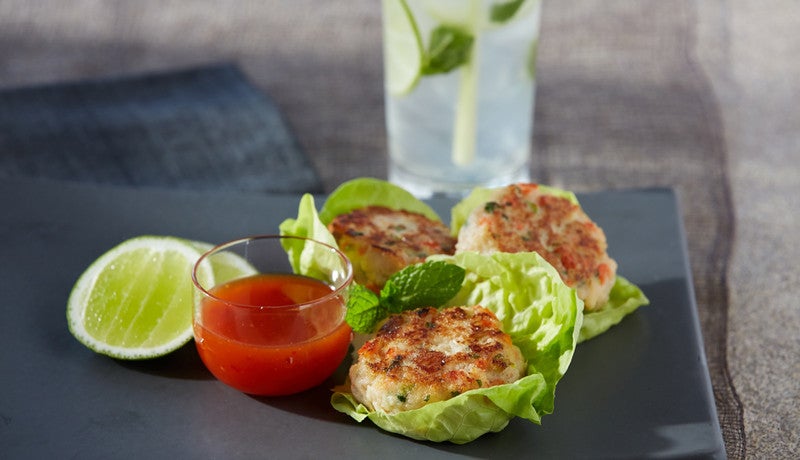 Thai Fish Cakes with Sriracha Sweet Chili Dipping Sauce
20 servings
Ingredients
Fish Cakes
1 tablespoon Flounder Fillet (Rock Sole) IQF Deep Skinned PBO 6 oz 411301

1 tablespoon cornstarch

1 tablespoon soy sauce

1 tablespoon Thai sweet chili sauce

1 tablespoon minced fresh garlic

1 tablespoon very finely minced fresh ginger

1 each egg white

2 tablespoons chopped fresh cilantro

2 each green onions, white and green parts, thinly sliced

1/4 cup finely diced carrot
Sauce
2 tablespoons Sriracha sauce

1 tablespoon fish sauce

1/2 cup Thai sweet chili sauce

1 tablespoon fresh lime juice

Vegetable oil, for cooking

Cilantro sprig, for garnish
Directions
Fish cakes: Before weighing out fish, press out any excess moisture, cut out any bones, and then pat fish dry. Cut fish into coarse chunks. Refrigerate if not making fish cakes immediately.
In a bowl, mix cornstarch, soy sauce, lime juice, and chili sauce until smooth. Stir in garlic, ginger, egg white, and half of the fish. Transfer the mixture to a food processor and process for about 20 seconds, until coarsely pureed but not a paste. Add the remaining fish, chopped cilantro, green onion, and carrot, and pulse in just to mix evenly but with some of the fish texture still remaining. The recipe can be made to this point and then covered and refrigerated, for up to 4 hours, before portioning.

With a #40 scoop, portion the mixture onto a parchment-lined sheet pan. Form into 1 1/2- to 1 3/4-inch cakes. Cover and refrigerate until ready to serve.

Sauce: Combine the ingredients, cover, and refrigerate.
For service: Heat a non-stick sauté pan with a little vegetable oil over medium-high heat. Cook a few fish cakes at a time for about 1 to 2 minutes on each side or until lightly golden. Serve immediately, accompanied with sauce for dipping. Garnish with cilantro.
Additional serving/cooking method: Skewer the fish cakes or form the mixture around wooden pupu picks. Flash bake in a preheated 450-degree F convection oven on a well-oiled or pan-sprayed sheet pan for about 3 minutes. Turn the cakes over with a spatula and bake for another 3 to 4 minutes or until just cooked through. Optional garnish: Serve with butter lettuce leaves and mint and cilantro sprigs.