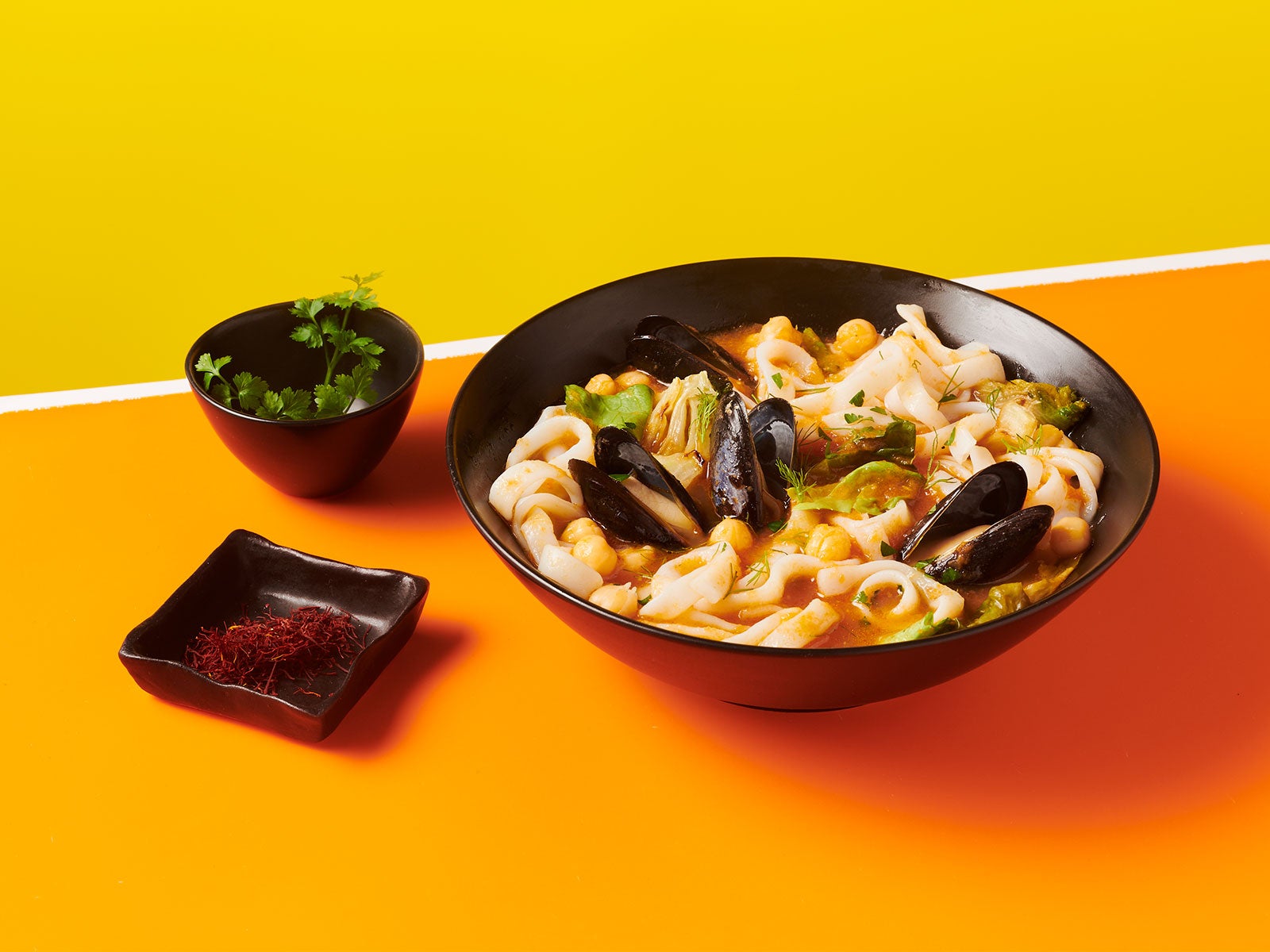 Roasted Tomato Broth with Saffron, Fennel and 10g Protein Noodles™
10 servings
Ingredients
9 lb Large Red Tomatoes, halved & seeds squeezed out

Extra Virgin Olive Oil

Coarse Salt and freshly Ground Pepper (to taste)

1 1/2 lb Fennel, thinly sliced

30 oz Yellow Onion, roughly chopped

8 oz Carrot, roughly chopped

1 oz Garlic Cloves, finely chopped

1 1/2 Cups White Wine

1 large Pinch of Saffron

6 Cups Fish Stock

2 lb Mussels

6 oz Chickpeas (Garbanzo Beans)

6 oz Escarole, coarsely chopped

1- 2.5 lb Package 10g™ Protein Noodles (10lb case) 7929692800

Garnish Fennel Fronds

Garnish Fresh Parsley, chopped
Directions
Preheat oven to 225°F.

Toss tomatoes with olive oil and salt and pepper. Roast cut sides down until very soft, 2 to 3 hours.

At the same time, toss fennel with oil, salt and pepper and roast until tender. Roughly chop.

Heat ½ cup oil in saucepan and add onions, carrots and garlic. Cook until softened. Add wine and reduce. Add saffron, fish stock and tomatoes. Bring to a boil and simmer until flavorful and slightly reduced. Season and strain broth through food mill or chinois. Bring back to a boil; add mussels and escarole. Cook until mussels are opened and firm.

Dip 10g Protein Noodles™ into hot water and drain.
To serve: divide 10g Protein Noodles™ between serving bowls and ladle broth, fennel, chickpeas and mussels around the noodles. Sprinkle with fennel fronds and parsley. Substitution: Clam Juice for Fish Stock.