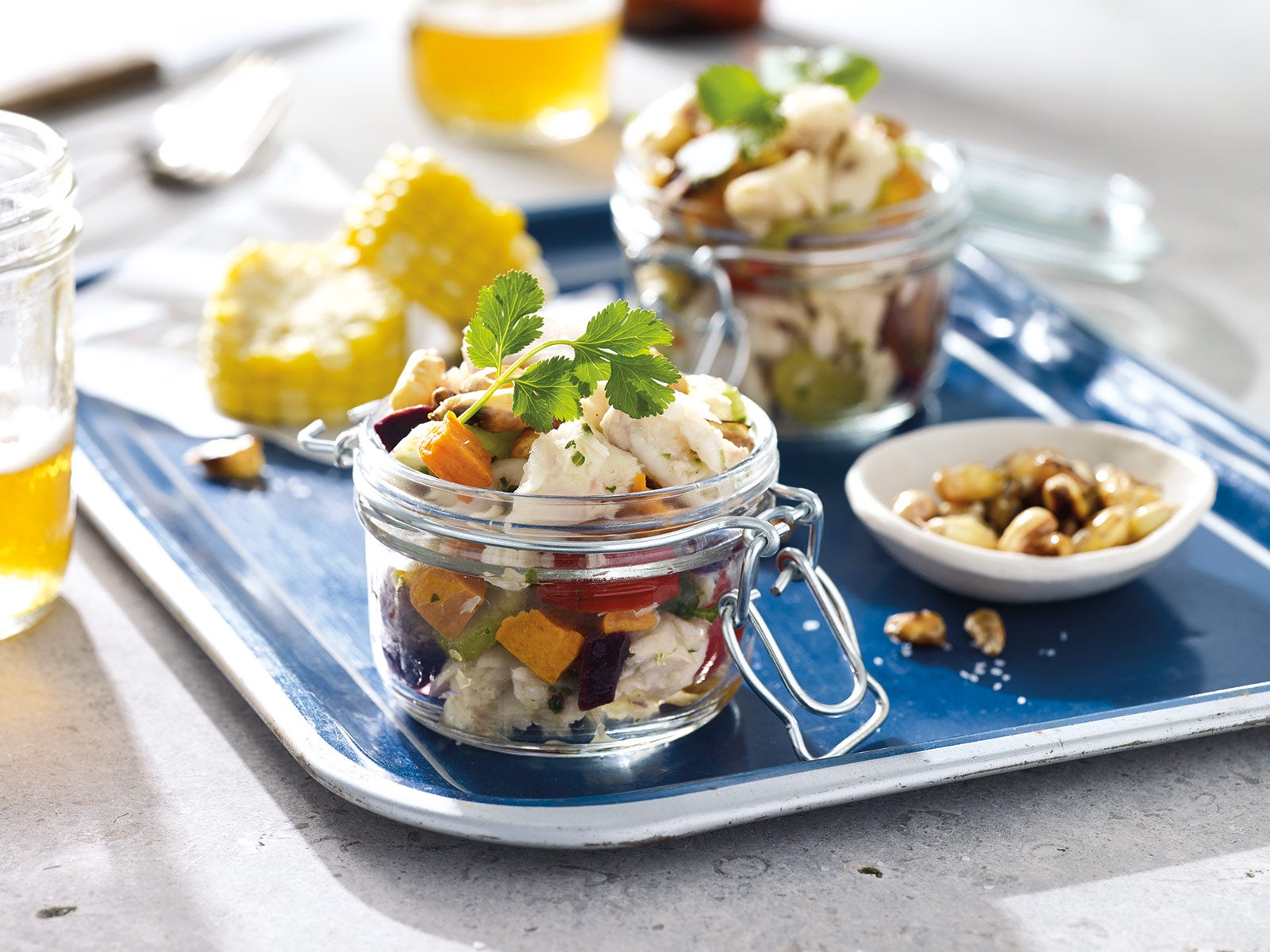 Leche de Tigre Wild Alaska Pollock
12 servings
Ingredients
2 Blocks Wild & Simple Skillet Redi™ Wild Alaska Pollock 14.4 oz Deep-Skinned, Boneless 424914

8 Ounce Lime Juice

2 Garlic Clove

2 Serrano Peppers (seeded and thinly sliced)

1 Red Onion (diced)

4 Ounces Clam Juice

1/2 Cups Cilantro (packed)

1 Tablespoon Ginger Root, grated

2 Tablespoons Vegetable Oil

1/2 Cups Cancha (Peruvian Corn Nuts)

To taste Salt

2 Stalks Celery (Thinly Sliced)

1 lb Sweet Potato (cubed and roasted)

2 Cups Cherry Tomatoes, sliced in half

4 Ears Corn on the Cob

Garnish Cilantro
Directions
Cook Skillet-Redi Alaska Pollock per instructions; keep warm.

Blanch ears of corn and slice into 1/2-inch pieces.

Blend lime, garlic, chile pepper, half the onion, clam juice, cilantro and ginger. Chill.

Heat oil in a large saucepan and cook the Cancha covered, shaking pan until corn has popped and is golden. Toss with salt.

Toss Alaska Pollock with the lime mixture, celery, sweet potatoes, cherry tomatoes and corn on the cob pieces.

Top with popped Cancha and cilantro.