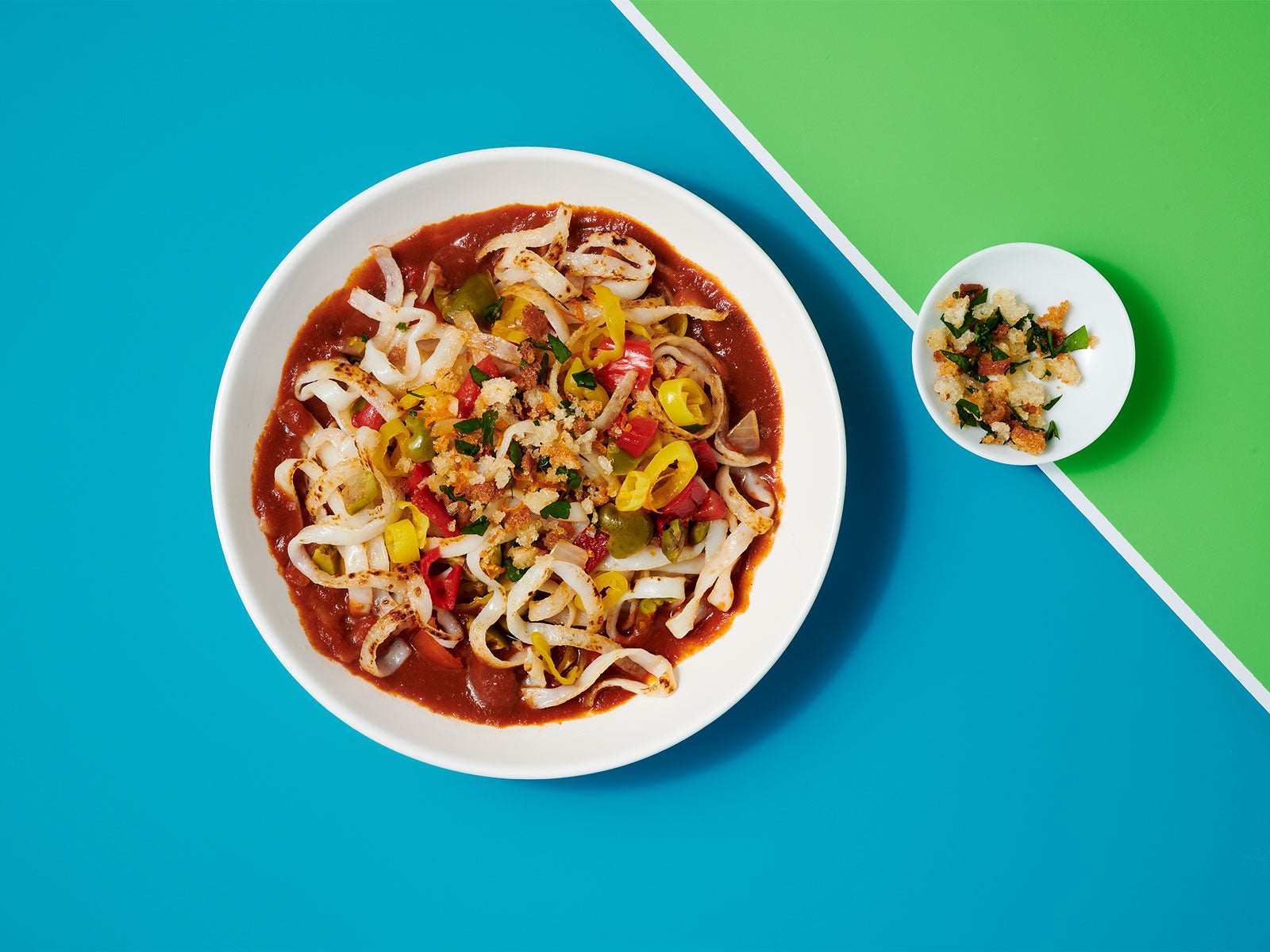 10g Protein Noodles™ ala Plancha
11 minutes 10 servings
Ingredients
2 Tablespoons Garlic, minced

2 Tablespoons Shallot, minced

1 Tablespoon Smoked Paprika

1 teaspoon Cayenne Pepper

4 Cups Chicken Stock

3 Cups Strained Tomato

1/4 Cup Unsalted Butter, cold and cubed

1 lb Dried Toasted Ciabatta

1/2 oz Orange Zest

1/4 Cup Extra Virgin Olive Oil

1 oz Fresh Parsley, chopped

1/4 oz Fresh Mint, chopped

2.5 lb Package 10g™ Protein Noodles (10lb case) 7929692800

12.5 oz Sweet Onion, chopped

7.5 oz Pickled Sweet Peppers, chopped

7.5 oz Castelvetrano Olives, chopped

7.5 oz Roasted Red Pepper, chopped

3.75 oz Pepperoncini, chopped

3.75 oz Sweet Banana Pepper, chopped
Directions
In a medium sauce pan, sweat garlic and shallots until fragrant. Add dry spices and cook until toasted. Add chicken stock and tomato puree; bring to a simmer. Using an immersion blender, puree the garlic and shallot while adding butter, until incorporated. Season to taste, cool and store.

Pulse toasted ciabatta in food processor until a crumb texture is reached. In a mixing bowl combine bread crumb, olive oil, orange zest and chopped herbs. Mix well and set aside.

Preheat flat top to 425⁰. Using approximately 4 oz oil, put veggies and 10g Protein Noodles™ on to cook. Mix with spatulas until veggies start to steam and 10g Protein Noodles™ start to brown.
For service: Pool 2 oz warmed sauce onto bottom of plate. Place 8 oz protein noodles and pepper mix on top of suace. Garnish with ½ Tablespoon pangrattato.